How to Choose a Supplement That's Just Right for Your Dog
By Guest Writer, Kristen Levine
As you've wandered the dog food aisle, you've probably noticed that there's an overwhelming array of different foods for different dogs. There's small kibble for smaller breeds, big kibble for big doggos, active pup formulas, with grains, without grains and so much more! 
If you're buying food for a puppy, there are foods that are formulated specifically for dogs in the first year of their lives. Once they reach adulthood, they no longer need food for puppies and you transition to adult dog food. Then they enter their senior years, and you change formulas again. Have you ever wondered why?
It's because dogs in different life stages have different nutritional needs. Thankfully, a high- quality food formulated for their current needs will go a long way towards promoting good health.
However, when it comes to my dog, Chilly, I like to go one step further than just making sure I'm feeding him the best food I can. After all, there's no such thing as a miracle food, and if there's anything I can do to give him a longer, healthier life, I'm in! That's where his daily supplement comes in.
It only makes sense that dogs can benefit from a little supplemental nutrition, just like humans do. And just as buying the right food for your dog's age is essential to keep him healthy, the supplement you choose should also target the needs associated with his specific life stage.
The good news is that you don't have to be a veterinarian or a dog nutritionist to know what supplement is best for your dog. Vetericyn has made it easy with their new supplement, ALL-IN™. 

A Supplement That Meets Dogs' Changing Needs
Now that Chilly is a senior dog, I know that he needs different things from a supplement than he did even a couple of years ago. One of the really great things about ALL-IN is that it comes in three life-stage formulas. The formula for puppies supports growth and development, the one for adult dogs focuses on performance and recovery, and the senior formula gives dogs in their golden years what they need to restore mobility and rejuvenate their aging bodies.
This is great news for pet parents because it eliminates the need for multiple supplements. As its name suggests, ALL-IN delivers exactly what dogs in each life stage need for perfect nutritional balance in one simple tablet. So instead of giving your dog a supplement for joint health, another for coat and skin care, and others for things like heart health or digestion, you get complete nutrient replenishment with one product.
Obviously, this is much more convenient. Instead of having your pet medicine cabinet packed full of all of the supplements your dog needs, you're down to one bottle. It also saves you from wasting your money on lots of extra pills. But, most importantly, it's the best approach for your dog's health. Overloading your dog's system with too many supplements or excessive ingredients is ineffective and could even be toxic to their system. This kind of supplement regimen could actually do more harm than good.

How ALL-IN Works
Now, in order for a supplement to do the most good, it obviously needs to be well absorbed. Otherwise it just passes through without any benefit. 
After your dog ingests a supplement, it first needs to cross over from his stomach to his blood stream. From there, the supplement needs to be delivered to the organ or system that it's designed to support. Finally, it needs to be absorbed by the necessary cells. If any of those things don't happen, it just passes through your dog's system without delivering any benefit whatsoever.
ALL-IN makes sure that your dog's body is receiving what it needs because it makes use of a unique, ground-breaking technology that's not found in any other supplement. It's bio-active complexes are infused with a one-of-a-kind protein-based transport and delivery system that moves the supplement's ingredients through your dog's body and unlocks his cells so that they get absorbed.
Essentially, what this means is that the ingredients that you give your dog are ending up in the right part of his body and are being absorbed so that they stay there and deliver maximum health benefits. 

The Trust Factor
I've been using Vetericyn Animal Wellness products with all of my pets for years now, and I've seen firsthand that this is a brand I can trust. I've seen amazing results with their wound and skin care products, and I trust them completely to deliver the results that they promise.
This is an important factor because, unfortunately, many supplement companies are out just to make a quick buck. They add fillers and poor-quality ingredients to their products and take advantage of unsuspecting pet parents who just want to take the best possible care of their dog. 
Vetericyn is a brand that believes in quality and their products are backed by science. To develop ALL-IN, they partnered with Dr. A.S. Naidu, a world-renowned medical microbiologist, immunologist, and one of the pioneers of molecular medicine. Dr. Naidu's passion for developing an innovative supplement began when his own dog was injured and needed a boost to help his bone regeneration. His work with Vetericyn expanded beyond bone regeneration to include all of the key areas dogs need to thrive.
What this boils down to for me is that, when I give Chilly his ALL-IN supplement from Vetericyn, I can have complete confidence that I'm giving him something that's backed by decades of knowledge, clinical evidence, and a passion for innovation and animal wellness. I know that ALL-IN will actually help him in the long run and that it's exactly what he needs as a senior dog.
To learn more about the ALL-IN product, check out my interview with Dr. Naidu at SuperZoo:
http://https://www.youtube.com/watch?v=Gx4aiuDLhwE&list=PL2dvQgOnp7jmAcduvaW7PNrgcxP5cFdlc&index=19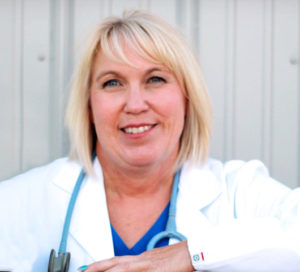 Dr. Melinda J. Mayfield-Davis, DVM, WCHP-AH, brings over 20 years of experience in veterinary medicine.  She is the Technical Services Veterinarian with Innovacyn, Inc., parent company of Vetericyn Animal Wellness. She received her DVM from Oklahoma State University and now resides in Southeast Kansas with her husband, two children, four dogs, and six horses. Prior to working with Innovacyn, Dr. Mayfield owned and operated the Animal Care Center in Columbus, KS.