Floppy, pointy, or in between, our dogs' endearing ears can inspire plenty of pets and scratches. But if your pup loves rolling on the ground, getting messy, and sticking their snouts in the smelliest places, their ears can pick up dirt and grime just as well as the rest of them. 
When it's time for a bath, however, a dog's ears can be sensitive—and some areas of the ear flap or ear canal are simply hard to reach. So, how can you get your dog's ears squeaky clean?
Some surefire tips for how to clean dog ears and helpful products can make those ear cleaning sessions easy and pain-free. It is also important to know how to remove a tick from a dog, as ticks can make their way into the crevices of the dog's ears. That way, your pup can get back to perking up those ears at every shake of the treat box.
Step 1: Gather Some Ear Cleaning Supplies
Your dog's ears have plenty of incredible features, from their sheer softness to their ability to pick up on hundreds of sounds our human ones can't.1 What they don't have, however, is the ability to clean themselves.
Luckily, you can lend a hand with some ear cleaning supplies.
To help your pup's ears feel fresh and clean once more, you'll need a few essential tools, including:
An ear cleaning solution or ear cleanser formulated to alleviate irritation from an ear infection and remove debris, such as a quality

antimicrobial ear rinse

A few soft towels

Some cotton balls or gauze
A tip on ear cleaning safety: Avoid using any pointed tools or cotton swabs when cleaning your pets ear. While they may seem ideal for working out debris in deep crevices in a dogs ear canal, they could have the opposite effect, pushing debris down the ear canal and causing further problems in the inner ear or ear drum.2
Step 2: Gently Clean Your Dog's Ears
Your dog's sense of hearing might usually have them running toward you—especially when you say words like "Time for dinner!" or "Who wants a walk?" But if your dog is the kind that runs in the opposite direction when they hear the word "bathtime," don't worry. Now that you've assembled the right ear-cleaning supplies, the actual cleaning steps are fairly simple.
Follow these steps to gently clean your dog's ears: 
Clear the area

– If your dog has long hair around their ears, start by pushing any hair away from the area. A few hair clips can be helpful for dogs with extra flowing locks.

Apply the ear rinse

– Squeeze your

ear cleaning solution

in and around your dog's ear until the area is fully saturated.

Massage

– After applying the solution, use your hands, gauze, or a cotton ball to gently massage their ear. Not only will the massage help to work the solution deeper into the ear, but it can also help relax your pup through the whole ordeal.

Dry

– If you're using a solution specially formulated to clean dog ears, an extra rinse afterward might not be necessary. However, you can help your dog's ears dry by gently patting them down with a towel when you're done.

Allow your dog to shake their head to eject any remaining debris or liquid.
As you wash your dog's ears, don't forget to give them plenty of pets, back rubs, and words of encouragement—not to mention a few of their favorite treats. Use these to ensure good behavior and reward your pup for being patient and brave.
How to Know It's Time for an Ear Cleaning
From waking up to watch the sunset to howling along with the sweet sound of the ice cream truck, you and your dog might have your own daily routines down pat. When it comes to ear cleaning, however, this task doesn't necessarily need to happen daily.
To maintain your dog's ear health in the long term, some vets suggest that a monthly cleaning should suffice.3 Whether they need more frequent cleanings can depend on their breed, a predisposition to infection, or even how often they go swimming or roll around in the mud.
If you're wondering whether it's time for an ear cleaning, look for the following signs:
Scratching or shaking their head – If you notice frequent head shaking or ear scratching, it could be caused by a buildup of dirt or ear wax in their ear canal.2
Funky smells

– Any dirt, grime, ear wax, or bacteria in your dog's ears can lead to a less-than-pleasant odor. If you notice any unusual smells the next time you nuzzle up to your pooch, it might be time for an ear wash.

Sensitivity or pain

– Most pups love head scratches, but unclean or irritated ears can sometimes lead to heightened sensitivity and even ear pain. If you notice your dog shying away from the usual pets and pats, it's time to investigate further.
It's also important to note that dirty ears can lead to a variety of bacterial or fungal infections. If these symptoms don't go away with an ear cleaning session, or if you notice any additional redness or discharge from the ear, consult your vet right away.4 Furthermore, you keep up with your dog's ear health and overall health as it is important to know how to tell if a dog has a fever. Issues with the ears or eyes could hint toward a greater problem that should be addressed.
Keep Your Dog Happy, Healthy, and Clean with Vetericyn
Regular cleanings can help transform your dog's oh-so-soft ears from funky to fresh. To keep those ears perky, hygienic, and healthy in the long term, however, you'll want to stock up on ear cleaning products formulated just for your dog's unique ears. If you're also wondering how to clean dog eyes or how to treat mange in a dog, we've got you covered!
At Vetericyn, we've spent more than a decade working side-by-side with certified veterinary professionals to craft products that promote animal wellness. That includes ear care products for pets, eye wash, pet shampoo, and more. Our innovative products put animal wellness first, while remaining accessible and affordable to pet owners everywhere. 
Visit us today to discover the Vetericyn difference.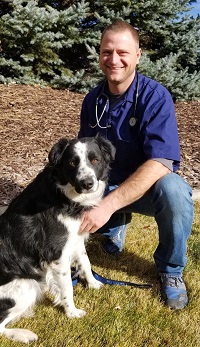 Reviewed by Dan Richardson, Veterinarian
Dan Richardson has been a practicing veterinarian for over 10 years. He specializes in surgery and orthopedics. Dan is originally from rural western Nevada and attended the University of Idaho for undergraduate study and Oregon State University for Veterinary School. The Richardson Family enjoys camping and spending time on the water fishing, paddle boarding, or digging their feet in the sand somewhere warm.
Sources: