How to Heal a Dog Wound Fast
Whether they're chasing balls with puppy pals at the dog park or digging holes in the backyard, dogs truly know how to live in the moment. But amid all this rambunctious activity, some dogs may incur minor wounds. 
Seeing your precious pup wounded with a cut or scrape can be distressing. Your first instinct may be to schedule an appointment with your veterinarian. There are many different types of dog wounds, and while some dog wounds require immediate vet care, many minor wounds can be treated at home, saving you time and a costly vet bill.
Below, we'll describe how to heal a dog wound fast so your furry friend can get back into action ASAP. 
#1 Stop the Bleeding
The first step to healing a dog wound is to stop any bleeding as soon as possible. You can do so by applying pressure to the wound with a clean cloth or towel for five to ten minutes.1
During this time, you can also soothe your sweet doggo to help them relax. Depending on the severity of the wound, they may be in pain and in need of a little TLC. 
If the bleeding hasn't stopped after ten minutes, you should call your vet and defer to their care. Profuse bleeding may indicate:
An arterial injury 

A deep puncture wound
Note: Dogs in pain may be prone to aggression, even if they're usually very calm and loving. Thus, you may want to enlist the help of another person before you treat your dog's bleeding. If no one is available, you can consider placing a muzzle on your dog for your protection.
#2 Assess the Wound's Severity
Once your canine's wound is no longer bleeding, you can take a closer look at it and ask yourself the following questions:
Where is the wound located?

– Wounds near your dog's face or high up on their legs may be more difficult to bandage. As a result, you may want to let your vet handle their treatment.


How deep is the wound?

– Puncture wounds or bites from other animals may be quite deep. You should defer to your veterinarian in these situations.


Is it infected?

– If the wound appears to be highly contaminated or infected already, you should seek immediate veterinary medical attention. Your dog may need a round of antibiotics to get rid of the wound infection so the infected wound can heal properly. 

Has the bleeding stopped entirely?

– As we mentioned earlier, wounds that continue to bleed after ten minutes should be treated by a veterinarian right away. 
Serious dog wounds aren't just harder to treat—they may also be more painful for your pup. As a result, your veterinarian may prescribe pain medication to help ease the discomfort for your furry friend.
#3 Gather Your First Aid Supplies
If you've determined that you can competently care for your dog's wound at home, the next step is to gather your wound management supplies. 
As a well-prepared pet owner, you may have a dog first aid kit on hand already. If not, consider putting one together for the future. Make sure to stock your pet first aid kit with the following supplies:
Electric clippers

Sterile bandages

Bandage scissors

Bandage tape

Tweezers

Magnifying glass

Soft muzzle

Antimicrobial spray (link to Vetericyn Spray)

Antimicrobial hydrogel (link to Vetericyn Hydrogel
When all of your supplies are ready to go, you can promptly and easily treat minor pet wounds.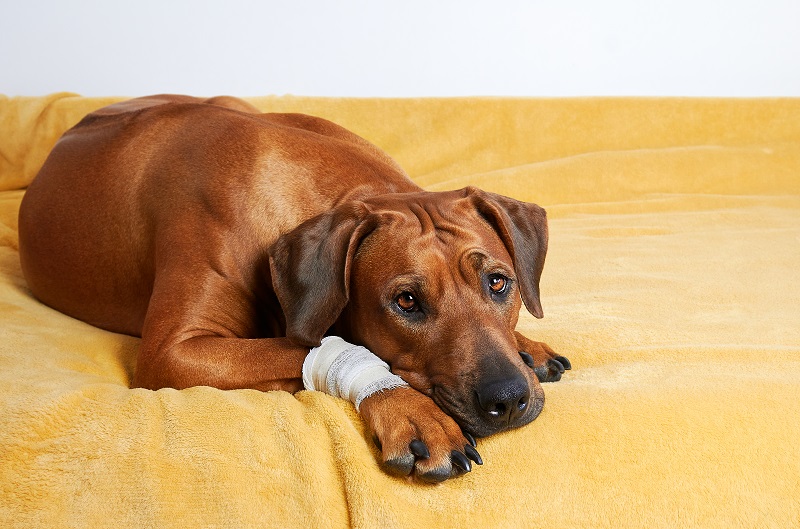 #4 Clean the Wound
Once the bleeding has stopped, it's time to clean the wound. Proper wound cleaning can help prevent an infection from developing and speed up the healing process considerably. 
Here are a few steps you may need to take to clean the wound completely:
Shave the surrounding fur

– If your furry friend is

very

furry (meaning they have a lot of fur surrounding their wound), you may want to shave it to reduce the risk of contamination. Electric clippers can help you remove the fur gently. Be very careful to avoid cutting any nearby skin. Once you're done shaving, simply wipe away the fur with a clean towel.

Flush the wound with Vetericyn Wound Cleanser (link)

– Liberally flushing Vetericyn Plus over the wound will wash away any dirt, debris, fur, blood, pus, or bacteria that could lead to infection down the line.



Note:

Don't

try to wash an open wound with soap, shampoo, or any other generic cleaning products. These products may be toxic for your dog and potentially harmful to their wound healing process.2

  Many of the traditional "anticeptic" wound care products actually impede healing and harm fibroblast cells.   This is old technology and there are better solutions for wound care today!

Tweeze out any lodged objects

– If your dog's wound has any thorns, twigs, glass, or other foreign objects lodged within it, you can gently remove them with sterilized tweezers. A magnifying glass can help you spot tinier objects you may otherwise overlook.





If this process sounds a little too overwhelming, you can always call your vet for an appointment and ask them to take over treatment. 
#5 Treat the Wound
After cleaning your dog's wound, it's time to treat it. However, don't go looking for your hydrogen peroxide or rubbing alcohol to prevent bacterial infection. These solutions can cause damage to your dog's delicate tissues and delay the healing process of damaged tissue.3 
Instead, you can treat the wound with a dog-friendly, antimicrobial spray, like Vetericyn Plus® Antimicrobial All Animal Wound and Skin Care. This spray can be applied three to four times a day. Its unique technology supports your dog's natural healing process, speeding up their treatment time. It's also safe if licked and won't sting or burn!
You can also apply a layer of antimicrobial hydrogel, which will keep the wound clean and moisturized while it's healing. This is especially important because moisture encourages blood flow, resulting in a faster healing process.4 Vetericyn Plus® Antimicrobial Hydrogel can also provide your sweet dog with a comforting, cooling sensation, which can help ease their pain.
#6 Wrap the Wound
After treating the wound appropriately, you can cover the dog wound with a clean bandage. Then, apply bandage tape to hold it in place. Make sure that you don't wrap the bandage too tight, as it can constrict blood flow and be uncomfortable for your furry friend. 
Bandaging any wounds your dog has is an important part of wound care and the healing process for a couple of different reasons: 
One easy way to stop your pup from licking their bandages is to outfit them in an e-collar, also known as the "cone of shame." While your dog may not love their new style, it can serve their healing process in the long run by protecting their bandage.
#7 Give Your Dog Lots of Love
While many dogs are smart and curious, they may not understand what's going on during the treatment process. It can leave them feeling distressed and uncomfortable. 
After treating their wound, make sure to lift your pup's mood by rewarding them with a treat and some loving attention. A few "good dog" compliments can go a long way too. 
#8 Reduce Your Dog's Activity
While it can boost your dog's mood to shower them with lots of love, you shouldn't get them too excited for a few days. Too much excitement or activity can delay healing. 
Here are a few ways you can lower your dog's activity levels so their healing process can work its magic in peace:
Walk them on a shorter leash

Keep them from going up or down the stairs too often

Don't let them jump onto the furniture

Avoid any play-dates with pets that may try to roughhouse with them
#9 Continue With Wound Upkeep
Minor dog wounds can take a few days to heal. During this time, it's important to keep a close eye on the wound and apply fresh bandages two to three times a day, or as directed by your vet. Every time you check on your dog's wound, watch out for the following signs:
New bleeding

Changes in the wound's color

Swelling

Discharge

Foul odors
These symptoms may indicate an emerging infection or inadequate healing, warranting a prompt appointment with your vet.
Once the wound reaches the maturation phase of healing, it should close over with new skin, at which point you can stop refreshing the bandages. However, it's still a good idea to check on the wound for the next few weeks to ensure a full recovery.  
Vetericyn: Expedite the Healing Process With Dog-Friendly Pet Care
Your dog loves you more than anyone, and you can reciprocate that love by treating their wounds promptly with the best products. Here at Vetericyn, our Vetericyn Plus® Antimicrobial All Animal Wound and Skin Care can:
Kickstart and speed up the healing process

Reduce any chances of infection or scarring

Be safely licked or ingested by your furry friend 
Our Antimicrobial All Animal Wound and Skin Care is best used in combination with our Vetericyn Plus® Antimicrobial Hydrogel. This hydrogel provides essential moisture and protection to the wound during the healing process. 
So, to stock your doggo's first aid kit with the very best, shop Vetericyn today.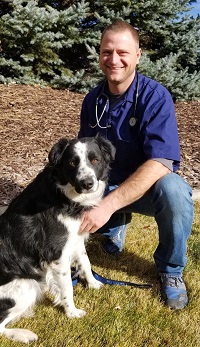 Reviewed by Dan Richardson, Veterinarian
Dan Richardson has been a practicing veterinarian for over 10 years. He specializes in surgery and orthopedics. Dan is originally from rural western Nevada and attended the University of Idaho for undergraduate study and Oregon State University for Veterinary School. The Richardson Family enjoys camping and spending time on the water fishing, paddle boarding, or digging their feet in the sand somewhere warm.
Sources: