How To Help a Dog Cope With Arthritis
Watching a canine friend limp, struggle with stairs, or refuse to jump into the car can be concerning. When it starts to happen frequently, the realization that your cherished pet might be suffering from arthritis pain can feel heartbreaking.
But don't lose hope. With a little adjustment and support, dogs with canine arthritis can continue to live long, happy, and active lives.
As a dog owner, whether you've just started to notice early signs and symptoms in your young dog or you've already confirmed a diagnosis of canine arthritis with your veterinary professional, learning everything you can about this condition is imperative for any pet parent. With this in mind, we've put together a guide and list of resources to help you and your pup navigate this new terrain together.
What Is Arthritis?
Before we go further, let's lay a basic foundation of what's happening to your furry friend from a biological perspective. In simplest terms, arthritis is the name for a wide group of diseases hallmarked by chronic pain and tenderness due to inflammation of the joints.1 
How Joints Work…Or Sometimes, Don't Work
Wherever a body bends is called a joint. A joint is the location where two bones come together and are held in place by connective tissue. Canines have joints in their:
Skull

Spine

Pelvis

Ribs

Hips

Shoulders

Forelegs

Hindlegs

Elbows

Knees

Feet (carpals and phalanges)
Imagine what it looks like when your dog runs—you can tell that certain joints have a broad and wide range of movement (like the shoulders and legs) while others have very little give (like the skull). 
There are 3 types of joints that determine their range of movement:
Fibrous joints

– These joints have little movement and are held in place by tight fibrous tissue. The joints of the skull are fibrous joints.

Synovial joints

– These joints are the most complex but allow the broadest range of motion, such as in the hips and shoulders. Each synovial joint is made up of four crucial components:

The cartilage on the end of the bones

A joint capsule that encloses the two bone ends and holds them together

Ligaments that align the bones

Synovial fluid within the joint capsule

Cartilaginous joints

– These joints have cartilage connections between the bones and allow some degree of movement. The joints of the spine are cartilaginous.
Like humans, canines can develop one of many types of dog arthritis in their joints, but the most common are:
Rheumatoid arthritis

– Where joint inflammation is caused by an autoimmune reaction.

Septic arthritis

– Where the inflammation is caused by an infection.

Osteoarthritis

– Where the inflammation is caused by the breakdown of cartilage due to either age or injury.
When a synovial or cartilage joint is in healthy working condition, the tissues and cartilage are smooth and slippery, allowing the bone ends to move past each other easily. However, when the cartilage is damaged due to age or injury, it begins to thin and become rough or torn. This, in turn, leads to the classic dog arthritis cascade of inflammation, joint swelling, tissue thickening, and ultimately, stiffness and chronic pain.
Unfortunately, arthritis is both degenerative (meaning it will continue to get worse) and non-curable (meaning once is starts, it cannot be cured). However, it doesn't have to be a debilitating condition. With management and treatment, arthritis can be tolerated, and some symptoms may even be reversed.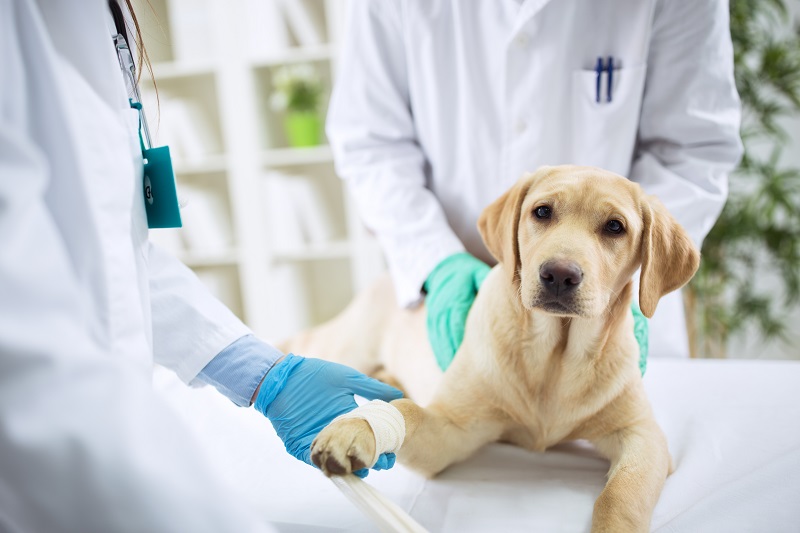 How To Help A Dog With Arthritis
Depending on the extent and type of your dog's arthritis, the treatment plan that your veterinarian recommends may include any or all of the following:
Dietary modifications

Supplements and vitamins

Weight management plans

Physical therapy

Non-prescription pain medication

Prescription medication
Understanding what each option entails will help you care for and support your furry friend, so let's explore each in more detail. 
Dietary Modifications

– Feeding your canine an anti-inflammatory diet may be one of the first steps you take in your pet's arthritis management. 

Supplements & Vitamins

– Because certain vitamins and minerals have proven to be beneficial to dogs prone to arthritis, you might start supplementing your dog's diet even before signs of arthritis arise. The best joint health additives to introduce into your pet's diet can include:

Chondroitin

Omega-3 Fatty Acids

Collagen

Weight Management Plans – Carrying extra weight puts extra strain on your pet's fragile joints. Keeping your dog at a healthy weight is vital to maintaining their joint integrity. To determine if your dog is at an ideal weight, stand above them and look down at their back. Their body condition can be scored on a scale of 1 through 5 as follows:2
Score of 1

– This means you can clearly see the outlines of the dog's ribs, backbone, and pelvis. Their waistline is dramatically tucked and they show muscle loss. This dog is severely underweight.

Score of 2

– This means you can still see ribs, backbone, pelvis, and waistline, but they don't have a wasted look. This pet is still somewhat underweight.

Score of 3

– This means a thin layer of fat covers the dog's ribs, although their waistline and ribs are still palpable under gentle curves. This is the ideal score for a healthy dog.

Score of 4

– This means a heavy layer of fat covers the dog's abdominal section. Their waistline is no longer distinct. This dog is somewhat overweight and at risk for aggravating their arthritis.

Score of 5

– This means the dog has substantial fat deposits all over their body, including their abdomen, legs, and face. They have no discernable tummy tuck and may even have a distended mid-section. This excess weight will significantly impact the amount of arthritis pain they experience.

Physical Therapy – Although movement might be painful to a pup with advanced arthritis, physical therapy is a sure way to help them shed excess weight and decrease the atrophy that comes with sore joints.3

Three types of PT your vet might recommend are:

Manual therapy, such as massage

Therapeutic modalities, such as ice-pack treatment

Therapeutic exercise, such as hydrotherapy

Prescription Medication

– While arthritis is a non-curable condition, certain prescription medications may help you manage your pet's arthriitic pain and symptoms. These types of medications work by decreasing inflammation, swelling, and pain. Talk to your vet about whether these medications are right for your dog.
Osteoarthritis in Canines
Of the many types of arthritis, osteoarthritis (also called OA or Degenerative Joint Disease) is by far the most common in dogs.4 Although, theoretically, any canine joint can develop OA, the most frequently afflicted joints are the large and hardworking synovial joints of the shoulders, hips, and legs. 
Heavier dog breeds are particularly prone to osteoarthritis because of their size and weight. These breeds can include:
German Shepherds

Rottweilers

Doberman Pinschers

Great Danes
Some breeds also have a genetic tendency to develop conditions like luxating patellas or hip displasias that, in turn, lead to arthritis as well. These breeds are:
Chihuahuas

Yorkshire Terriers

Labrador Retrievers

Bulldogs

Mastiffs

Saint Bernards
Outside of breed, age and weight are also major factors in whether a dog will develop arthritis.
How To Tell If Your Pup Has Osteoarthritis
 Maybe you're starting to see small changes in your dog's physical activities that have you wondering about signs a dog is in pain. 
Some common early signs of osteoarthritis in canines can be:
Stiffness when standing up

Limping or trembling when walking (read our post,

Why is my dog limping?

for more information) 

Difficulty jumping

Trouble climbing stairs

Behavioral changes, such as:

Disinterest in going for walks or to the park

Irritability

Increased sleepiness or lethargy5
If you suspect that your pup may be developing arthritis, don't hesitate to have them seen by your veterinarian. Diagnosis may require a physical exam, blood work, and x-rays. Once you have a diagnosis, treatment options and lifestyle changes can start to improve your canine friend's quality of life right away.
Calling In ALL-IN by Vetericyn
Even before your canine shows signs of arthritis, there are proactive steps you can take to ensure their joint health. From maintaining a healthy weight through diet and exercise to supplementing their diet with beneficial vitamins and minerals, you are your pet's primary partner for great joint health.
But you're not alone.
At Vetericyn, it's our mission to support you as a pet owner. With that in mind, we've formulated the safest, most effective, and most innovative animal wellness products available. Take, for instance, our ALL-IN Dog Supplement—the perfect vehicle to deliver joint support, digestive support, immune support, and more to dogs of any age (whether they're suffering from arthritis or not). 
Start maximizing your dog's health today with Vetericyn.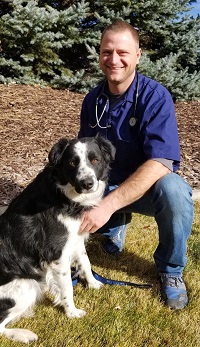 Reviewed by Dan Richardson, Veterinarian
Sources: