How to Load a Horse in a Trailer: Step-By-Step Guide
Whether you're heading to a show, moving, or simply heading out to a local trail, it's vital to be able to load a single horse in a trailer without undue stress on you or your four-legged friend. But with some horses, that's easier said than done.
If you have a skittish horse, or you're a new owner who's still learning the ropes, loading a horse in a trailer can be a stressful experience for everyone involved.
However, with the right preparation and approach, trailering can be done safely and calmly. This comprehensive guide will show you how to load a horse in a trailer while minimizing stress and maximizing safety.
The Trailer-Loading Tango: 5 Steps
If you've tried loading your horse into a trailer only to find your docile companion becomes a bucking bronco, you're not alone. Many horses are fearful of trailering and display problem behaviors like rearing, kicking, and pulling back.
Luckily, you can overcome these behaviors with time and training. You'll need to:
Train consistently and patiently
Desensitize your horse to the trailer slowly
Work on basic groundwork skills (walking on a lead line, turning, backing, etc.)
Use positive reinforcement
Here's how to put these strategies to work in 5 simple steps.
#1 Go Back to Basics
Your horse should be well trained and respectful of your commands before you even approach the trailer. You can accomplish this by practicing basic groundwork moves, such as:1
Leading – Practice responding to pressure on the lead by stopping, starting, and changing speed and direction.
Circling – Stand in one place and send your horse out to circle you. Vary size, speed, and direction to keep the horse focused and challenged.
Standing – Like practicing stay with a dog, horses need to learn to stand quietly when required and watch you for their cue to move. Have your horse practice standing still both beside you and at a distance.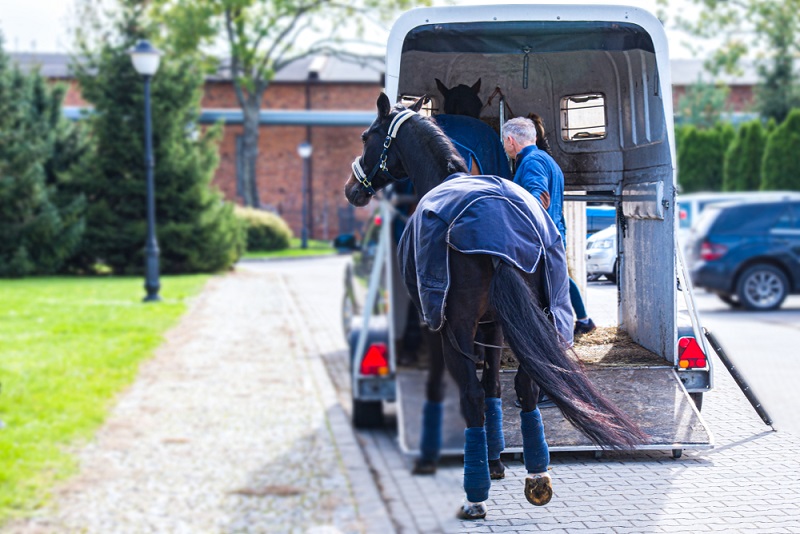 #2 Build Familiarity with the Trailer
As prey animals, horses have a natural instinct to avoid confined spaces. Their most basic defense from predators is running fast in wide open spaces—exactly the opposite of a small, dark horse trailer.2
To show your horse that the trailer loading process is safe, you'll need to let him get used to it slowly. Try:
Passing the trailer – Walk your horse back and forth past the trailer. Don't pull toward the trailer or even look at it—the goal is to show your horse that they can be near the trailer and towing vehicle without anything predatory happening.
Circling the trailer – Move closer to the trailer gradually, never pushing your horse outside of their comfort zone. Work your way closer until your horse can walk around it and past it confidently. Lead them away from the trailer frequently too. Show that approaching the trailer doesn't mean being forced into it.
Inspecting the ramp – Next, lead your horse to the loading ramp. Allow him to sniff it, paw it, and assure himself that it's completely safe. Don't rush him onto it.
Stepping onto the ramp – When he's ready, lead him to put one hoof onto it. Don't keep going yet—back him off of it. Practice stepping onto and off of the ramp slowly or the slant load trailers, just one or two hooves at a time. This lets the horse see that he won't be forced into the trailer.
#3 Secure the Trailer
Never load your horse onto a trailer that isn't secured to a towing vehicle, even if you're just practicing. The weight of your horse can easily cause an unsecured slant or straight load trailer to roll or pitch. This is dangerous and traumatic for your horse and for you. Don't take any chances with a loose stock trailer.
#4 Keep Yourself Safe
To keep yourself safe, there are few things you should avoid at all costs when working with a horse trailer. For example, never stand between your horse and the stock trailer wall where you can be squeezed or stepped on.
Additionally, don't stand directly behind your horse as they walk into the trailer, in case they kick or back suddenly. And above all, avoid getting into the trailer with your horse, where you can easily be injured if your horse panics.
#5 Use Food and Positive Reinforcement
Now you're ready to get your horse into the trailer.
Fill up the hay rack so that your horse discovers that getting aboard equals food and comfort.
Next, lead him up to the ramp while you stand to the side. With gentle but firm pressure on the lead rope, guide him into the trailer.
Allow him to rest and eat. Don't go for a ride just yet—show him that the trailer is quiet and safe first.
Lead him back out. Practice this until he's comfortable and confident walking inside.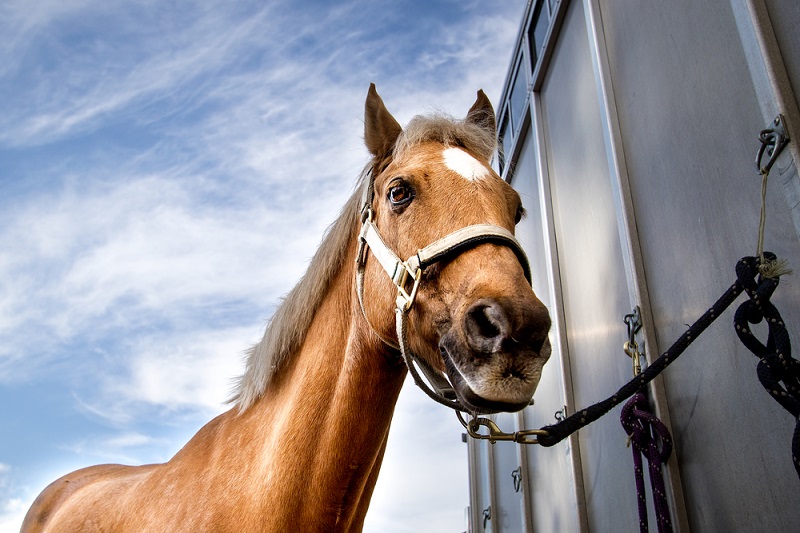 Post-Travel Checkup
Even with precautions and training, horses often get bumps and scrapes during travel, most commonly on the legs and head.3 Always check your horse for injuries after unloading.
If you find any cuts, scrapes, or open wounds:4
Assess the severity. If your horse is bleeding heavily, breathing rapidly, or has an elevated heart rate, get to a vet immediately.
Stop the bleeding. Apply pressure with a clean cloth until the bleeding stops.
Clean and flush the wound. Use an antimicrobial wound care spray to clean and disinfect the wound in one step.
Apply a bandage. Cover the wound with a sterile gauze pad and bandage the wound with vet wrap to protect it from dirt and flies.
Monitor carefully for signs of infection, such as swelling, heat, or discharge.
Treat Your Horse Right with Vetericyn
For your horse's safety and comfort as well as your own, be sure to prepare for trailer rides well before you need to hit the road. If you take time to train your horse to feel comfortable and secure in the trailer, you'll be rewarded with a loyal companion ready to accompany you on any adventure.
Remember, Vetericyn can help you travel safely with your horse. Keep Vetericyn Plus Equine Wound and Skin Care spray on hand whenever you travel, so you can clean wounds, and prevent infection like horse thrush and horse dermatitis on the go.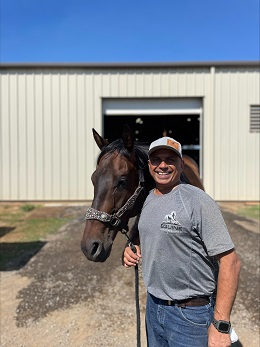 Reviewed by Solomon Benarroch, Veterinarian
Solomon Benarroch DVM has been a practicing veterinarian for over 30 years. His primary focus has been in equine soundness and performance sports medicine. Originally from Winnipeg, Canada he attended college at the Western College of Veterinarian Medicine. And completed an internship at the University of Minnesota. He is the father of three kids and when he isn't working (which is rare), he enjoys traveling, cooking, and spending time with friends and family.
Sources: