How to Treat an Open Wound on a Horse
Wound care may be a topic you hope you'll never have to learn about, but when you're a horse owner, it quickly becomes a fact of life. Whether it is in the pasture, stall, or in a trailer, horses have a way of getting cuts and scrapes. Being able to care for these wounds at home is an important part of horse ownership" or something along those lines.
To avoid infections and complications, horse owners need to know how to treat an open wound on a horse quickly and effectively at home.
Luckily, the basics aren't difficult. The key is having the right supplies on hand and acting quickly to clean open wounds while they're fresh to prevent infection. We've put together a simple guide on how to treat a horse wound to take you through the process step-by-step, along with tips on preventing wounds and how to know when your horse needs professional care.
Types of Wounds
Before diving into the details of the wound care process, let's discuss the different types of wounds you may be dealing with. Proper wound treatment varies somewhat depending on the cause of the injury.
Generally, wounds in horses fall into four main categories1,2:
Scrapes or abrasions – These are the most common wounds you're likely to encounter on your horse. Abrasions are caused by friction against a rough surface—think road rash or a skinned knee.

Abrasions don't have edges that can be pulled closed like a cut, and they need to be carefully cleaned and covered

when possible

to prevent contamination.

Pressure sores – These painful sores form when improperly fitted tack constantly rubs on an area of the skin and eventually creates an open wound. Saddle sores in horses and girth galls are common names for two types of pressure sore frequently seen in horses. In addition to basic wound care, treatment for pressure sores must include correcting the cause of the sore.
Puncture wounds – In horses, puncture wounds are often caused by nails, wire, thorns, or bites. Puncture wounds are especially likely to cause infection because bacteria is often pushed deep beneath the surface of the skin when the injury occurs. Puncture wounds are difficult to clean thoroughly because the surface injury is so small. It's imperative to keep puncture wounds open and draining to allow proper wound healing.
Cuts or lacerations – Lacerations may be simple, involving only the first few layers of skin, or complicated, involving deep tissues, muscles, and tendons. Lacerations often need to be sutured, glued, or stapled closed after the wound cleaning by a veterinarian.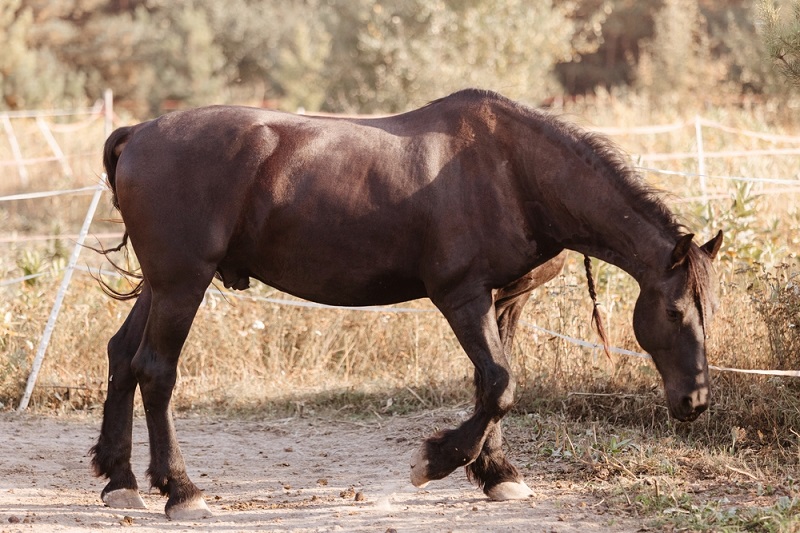 Treating a Wound at Home
As soon as you notice that your horse has an open wound, act quickly to begin treatment. You may need to call your vet after you assess how serious the injury is, but it's important to clean and protect the horse's wound while it's fresh.
#1 Clean the Wound
Cleaning to remove dirt and prevent bacterial infection is the most critical step for any type of wound. Bacteria are present on the surface of a horse's wound immediately, but they don't begin to colonize tissues for the first 3 to 6 hours.3 This is your best opportunity to prevent infection.
To clean a wound:
Flush – Use warm water or saline to wash out debris and harmful microbes. A large-barrel syringe without a needle or a spray bottle provides the right amount of pressure to clean the wound. Don't use a hose—the excess pressure can cause tissue damage.3
Disinfect – After flushing, follow with a disinfectant liquid such as Vetericyn Plus Equine Wound Care. Vetericyn Wound Care liquid disinfects gently using hypochlorous technology (HOCl). Unlike other disinfectants, Vetericyn Plus actually breaks down the bacterial biofilm that allows tough infections to thrive, without using antibiotics that can lead to dangerous antibiotic resistance.4
Avoid harsh disinfectants – Do not use improperly diluted chlorhexidine, hydrogen peroxide, iodine, or isopropyl alcohol, as these damage healthy tissue around the wound and slow the healing process.4
#2 Clip the Hair
After flushing out debris, you'll need to clip hair away from the injury. This will help you see the area clearly and keep it clean.
Use electric trimmers if you don't have clippers
Don't use scissors—you won't be able to trim the hair closely enough and could cause further injury
It is important to note that this step is only necessary if the hair is affecting the wound site.
#3 Bandage the Wound
While it used to be commonly thought that leaving wounds uncovered could help with healing process, research has found that unbandaged wounds actually heal up to 30% slower than bandaged wounds.3 Bandaging not only keeps wounds clean, it also holds in moisture to speed healing.
To bandage a wound properly:
Apply an antimicrobial – Use a hydrogel spray or thicker dressing gel. These gels are formulated to adhere to wounds, forming a protective layer that keeps wounds moist and clean while fighting infection.
Cover – Top the wound with an absorbent, sterile gauze pad. This will absorb excess moisture as the wound drains, while the hydrogel will help prevent the pad from sticking.
Pad – For extra absorbency and protection, you may cover the sterile gauze with cotton padding. If the injury is on a leg, you can also wrap the limb with thick padding to help keep it immobilized.
Wrap – Finally, use a layer of elastic bandage material such as vet wrap to cover the padding layer and keep it in place. Wrapping must be done carefully to avoid cutting off circulation.
#4 Continue Wound Management
Monitor the wound closely every day as it heals. Wounds generally take about 2 to 4 weeks to form the first layer of delicate new tissue over the injury and should be kept bandaged throughout.
During the wound healing period:
Change the bandage daily – Changing the bandage frequently is especially critical while the horse wound is still open and draining. For areas that are difficult to bandage, spray with hydrogel twice daily to provide extra protection and keep the area moist.
Check for granulation tissue – This is a layer of thin, bumpy red skin that forms over a wound to create a scaffold for new skin cells to grow over. It's easily injured, so continue watching the wound closely. Extra moisture with daily applications of a hydrogel spray can help keep granulation tissue moisturized and flexible.
Watch for signs of infection – Check daily for warning signs such as soreness, swelling, redness, heat, yellowish discharge, or odor. Checking your horse's temperature daily is also a good idea whenever you're concerned about a possible infection.
Wound Prevention
Of course, the best way to handle wound care is to prevent injuries from happening in the first place. You can't prevent all the bumps and scrapes horses sustain in day-to-day life, but you can take some steps to minimize the risk of common injuries:
Clean and maintain tack – Pressure sores from dirty, worn, or badly fitted tack are easily prevented by practicing good tack hygiene.
Groom daily – As you brush your horse, check carefully for developing sores and other signs of skin irritation or infection.
Check fencing regularly – Look for sharp wire ends, protruding nails, and broken boards that can cause scrapes and punctures.
Practice good hoof care – Hooves are a common location for injuries, and it's easy to miss a wound on the heel or frog without regular inspections. Make hoof care part of your daily grooming sessions. Clean hooves regularly with Vetericyn Hoof Spray to strengthen healthy tissues and kill pathogens that can build up in the crevices of the hoof.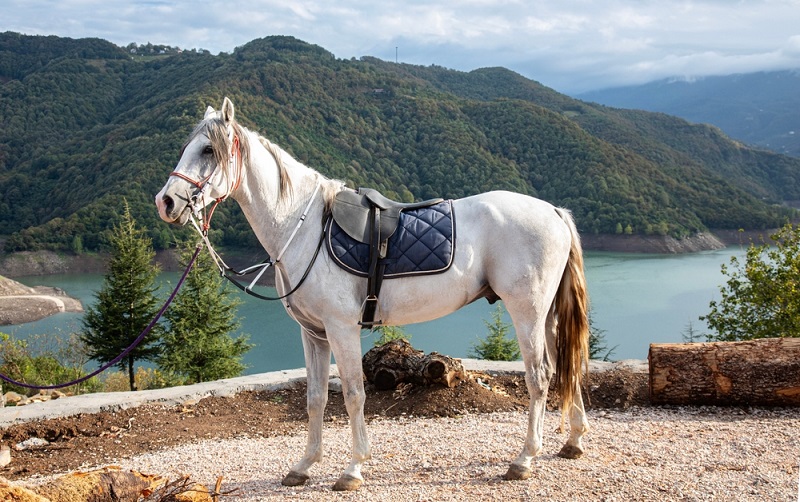 When to Call the Veterinarian
Some wounds are too serious to treat safely at home, and a delay in getting professional help can end up being more expensive and traumatic in the long run for both you and your horse.
Here are some signs that professional care is needed3:
If the wound is gaping open – Gaping wounds should be sutured or glued by a veterinarian to avoid complications that can prevent proper healing.
If it is close to the eye – Any injury involving the eye or skin close to the eye should be treated by your vet to avoid serious complications.
If it won't stop bleeding – Apply pressure to the wound with a clean cloth or pressure wrap where applicable
If you see blood in the nostrils – This could be an indicator of possible head trauma
if the wound is located over a joint or tendon sheath – These areas are known as synovial structures, and they're very susceptible to injury. Even small synovial injuries can lead to severe, long-term joint damage. Contact your vet immediately if you see yellowish fluid leaking from an injury near a joint—this can be a sign of synovial damage.
If it doesn't seem to be healing – Wounds that don't heal within a few weeks are often a sign of an underlying problem such as a foreign body in the wound, necrotic (dead) tissue that must be surgically removed, circulatory problems, proud flesh, etc.5
Heal Your Horse With Help From Vetericyn
Although it's always a worry when your horse has an injury, in most cases you'll be able to put your faithful steed on the road to healing with a bit of simple TLC. Be sure to keep basic wound care or first aid supplies for horses like disinfectant, hydrogel, and bandages on hand, and wash wounds out within the first few hours to prevent bacterial infection from setting in.
To be sure you're prepared with the safest and most effective wound care treatments available outside the vet's office, reach for Vetericyn equine wound and skin care.
Thanks to our unique HOCl technology, the Vetericyn wound care system cleans wounds painlessly, without damaging healthy tissue. It also protects injuries from contamination while encouraging healthy cell growth. Find Vetericyn equine care products at Amazon, Tractor Supply, or your local animal supply store.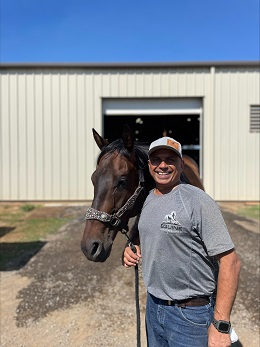 Reviewed by Solomon Benarroch, Veterinarian
Solomon Benarroch DVM has been a practicing veterinarian for over 30 years. His primary focus has been in equine soundness and performance sports medicine. Originally from Winnipeg, Canada he attended college at the Western College of Veterinarian Medicine. And completed an internship at the University of Minnesota. He is the father of three kids and when he isn't working (which is rare), he enjoys traveling, cooking, and spending time with friends and family.
Sources: