How to Treat Conjunctivitis in Cats
Behold, the powerful eyes of the world's cutest and fluffiest hunter: your cat.
Your cat's vision is sharp enough to spot a bird outside your window, a fly on the wall, or even a mouse rustling in the bushes in pitch darkness. Their visual prowess is impressive, even when they're only using those peepers to chase a red laser on the wall.
Cat eyes can come in stunning green, blue, and copper shades, each unique to the kitty in question. Their loving and intense gaze has mesmerized humanity for centuries. But what happens when your kitty's eyes aren't looking so bright and shiny?
Cat conjunctivitis, also known as pink eye, is a common ailment in cats. Although it can appear alarming, learning the early signs, causes, and treatments for feline conjunctivitis can help your cat kick that infection in no time.
What is Conjunctivitis in Cats?
Conjunctivitis is the most common of all feline disorders. 1 Usually the conjunctiva prevents microbes from entering the eye. It also protects the eye by lubricating the sclera with tears and mucus.2 
Cat pink eye occurs when the conjunctiva, the sensitive pink lining of the eyelids, becomes irritated.
Just like humans, cats carry a multitude of invisible microorganisms on them at all times. A majority of pink eye cases are caused by a cat's inflammatory immune response to those microorganisms. Though cats can experience pink eye at any point in their lives, it is most common in kittens. Let's dive into what these eye infections can look like and some common causes of cat conjunctivitis.
How to Identify Pink Eye in Cats
Cat eye problems are obviously discomforting, but where do you start finding a treatment? The fastest way to help your cat is to recognize when something is wrong in the first place. Keep in mind that a cat eye infection can affect one or both eyes. Signs of conjunctivitis in your feline friend may include:
Redness and inflammation around the eye

Redness and inflammation in inner corner of the eye

Frequent blinking

Squinting

Closed eye

Colorless watery discharge around the eye

Thick dark discharge around the eye

Pawing at the eye

Rubbing the eye against furniture or other surfaces
If you see any of these signs, don't panic. It may be feline conjunctivitis, or your furry friend may have just come up against trouble you didn't see-a playful catfight or a bush poking them in the eye unexpectedly. Our mischievous, curiosity-loving felines have a tendency to get into everything and anything.
Whenever you see signs of a cat eye infection, it's always better to take them to the veterinarian to assess the damage. In the meantime, it's a safe bet to give their eye a rinse with an antimicrobial eye wash to keep the area clean and comfortable while you make your appointment.
What Causes Pink Eye in Cats?
As previously mentioned, pink eye is essentially an inflammatory response. This response can cause eye inflammation, redness of the eyelid, squinting, and other symptoms. But that response can have several different causes. There are two main types of conjunctivitis in cats: infectious and non-infectious.
Infectious Causes of Conjunctivitis
Ever watched a litter of kittens grow up? If you have, you know they are usually rambunctious and social. They jump, run, collide, and climb the walls, which can cause common issues such as cat wounds, it can increase their chances of developing cat abscesses and even cause cat burns if they brush past a candle. It's no wonder then that the contagious strain of conjunctivitis is most common in kittens, who are constantly playing and smacking into things.
Infectious agents that can trigger pink eye include feline herpesvirus, calicivirus, Streptococci, Chlamydophila felis, and Mycoplasma. However, any number of bacteria, viruses, and fungi can irritate your feline's vision.3
Non-Infectious Causes of Conjunctivitis
When you really think about it, your cat is only a foot or so off the ground. That means they're constantly coming in contact with dust, dirt, pollen, and plants, which can lead to a bacterial infection or allergic reaction. Such allergens can be common causes of bacterial infection in many pets. Pay attention to your cat's whereabouts: if you notice conjunctivitis occurring after they interact with certain plants or spaces, they could be experiencing an allergic reaction.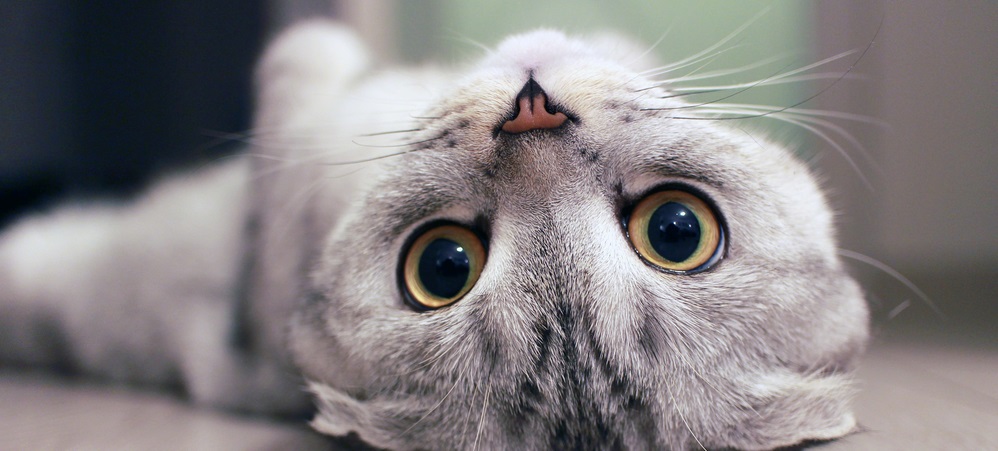 Non-infectious pink eye can also be triggered by a genetic component. If you have a Persian or Himalayan, or a similar longhaired cat breed, they may be born with entropion, a common cat eye problem. Entropion is when the eyelids turn in slightly, so that the lashes rub against the eyeball and irritate the cornea. It's also easy for dust and sand to get trapped in the eye and cause conjunctivitis.
Recurring conjunctivitis in certain cats can be a sign of a chronically compromised immune system. If your cat can't seem to kick pink eye, take them to your vet to check for signs of feline immunodeficiency virus (FIV) or feline leukemia  (FeLV).4
How to Heal Conjunctivitis
Now that you know all about it, how do you get rid of pink eye in your furry friend? Luckily, healing conjunctivitis is relatively simple.
What You Can Do At Home
So you may be wondering, how can I treat my cats eye infection at home? For immediate relief of eye inflammation, you can start by taking a warm, wet cloth to the affected eye. Gently wipe away any crust or discharge if your pet allows you. Once that's done, use an antimicrobial eye wash.
For the safest, most effective cleaning of your cat's eye, be sure to choose an eye wash that's:
Non-irritating, so it won't sting or burn

Non-toxic; it's safe if licked or ingested

Safe for all animals at all life stages

Alcohol, steroid, and antibiotic-free
Antimicrobial eye wash is amazing at providing relief from pink eye, cooling, soothing, and cleaning the area. It's also suitable for any animal and any ailment: allergies, tear stains, and itchiness will be banished by frequent eye washes.
What to Expect at the Vet
If you're looking for a ve-recommended treatment, you can always take your feline in for your vet to get a closer look. Once your veterinarian diagnoses your cat, they may prescribe medicinal eye drops to fight the virus or bacteria causing the issues. Common prescriptions for pink eye include supplements, steroids, antibiotics, anti-inflammatories, and other immune-boosting supplements. 5 It all depends on what is causing your cat's infectious conjunctivitis.
Be wary that if the cause of your cat's pink eye is something like feline herpesvirus, it may reoccur in waves.
How to Apply Eye Drops
Every cat owner knows that it can be incredibly hard to keep a cat still, especially when you're trying to clean your cat's eyes. One minute they're secure in your lap, purring away-the next they've jumped halfway across the room and are peeping up at you from under the bed. This definitely happens when cats sense impending doom triggered by a vet trip, a nail clipping session, or dreaded eye drops.
Luckily, there are some tried and true tips to prevent an eye flushing session from becoming a wrestling match, complete with claws. Here are a few steps to help you calm an anxious kitty down and effectively flush out irritated eyes.
#1 Positioning is Key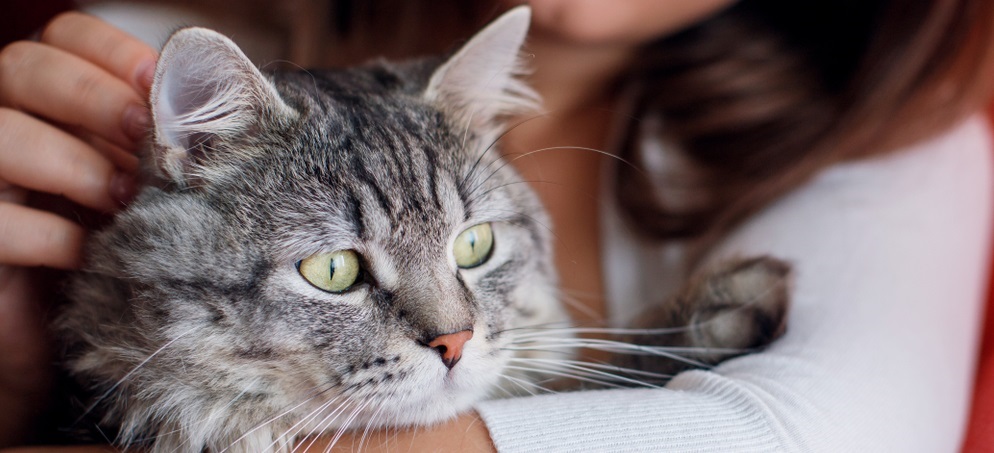 Making sure your cat can't squirm away from you is one of the easiest ways to ensure successful eye drop administration.6
To begin, make sure your cat is in a calm, comfortable mood.

Place your cat on a table, on your lap, or between your legs; whichever position is most comfortable for you and them.

Make sure your cat doesn't have any room to back away (this is where having your cat in your lap can be helpful).

If you know they have a tendency to wiggle or scratch, wrap your cat in a blanket or towel, with just their head poking out.

The first time you administer eye drops, it may be helpful to recruit a friend to hold down your cat-in-a-blanket while you prepare the dropper.
#2 Flushing the Eye
Now let's get down to the details: how to properly apply medicine or flush out your cat's irritated eye. Remember to be patient, as this may take a few tries if your cat is extra wiggly.
With your non-dominant hand, cup your cat's head under the jaw.

Use your thumb to slightly push up on your cat's cheek under the eye. This will create a "pouch" in the lower eyelid to dispense the eye drops.

Alternatively, you can use your thumb to gently pull the cheek down to keep the eye open.

Position your other hand with the dropper over their head; do not touch the dropper to their eye.

Squeeze the dropper lightly and apply the eye drops.

This is the important part-wait just a bit after flushing the eye! It may be tempting to let go right away, but if your cat runs off they may rub the affected eye, disturbing the eye wash liquid or medicine.
#3 Reward Your Brave Kitty
A successful eye wash should be immediately rewarded with treats, a meal, and lots of love! It's no small feat to get your cat to comply when they're already irritated and in pain. Plus, the positive reinforcement will make future dosing way easier.
After all that, you deserve a treat too-make sure you grab a cookie for yourself while they're gobbling up their goodies.
Crystal Clear Cat Vision with Vetericyn
Cats are proud creatures: even when they're sick, they try to hide their pain from us the best they can. But we all need a little help from time to time! And when conjunctivitis strikes, Vetericyn is here to help with our Antimicrobial Eye Wash. Our soothing, cleansing formula will have your cat up and chasing laser pointers with pinprick precision again in no time. Check out our blog on how often should you bathe a cat to learn how to best avoid the eye area during a bath to avoid additional irritation.
The best part of our formula is that it's totally non-toxic for all animals. So whether you're using your eye wash for a feisty feline with conjunctivitis, or you have another animal in the house-rambunctious pup? rascally rabbit?-you can rest assured that Vetericyn's Eye Wash will be safe and effective for all your critters.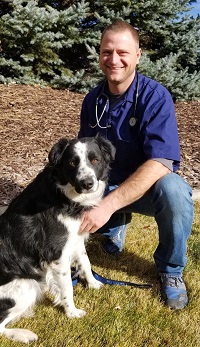 Reviewed by Dan Richardson, Veterinarian
Dan Richardson has been a practicing veterinarian for over 10 years. He specializes in surgery and orthopedics. Dan is originally from rural western Nevada and attended the University of Idaho for undergraduate study and Oregon State University for Veterinary School. The Richardson Family enjoys camping and spending time on the water fishing, paddle boarding, or digging their feet in the sand somewhere warm.
Sources: