Laminitis in Horses: Causes, Prevention, and Treatment
If you notice your horse limping, shifting their weight frequently, or refusing to move, as if they were walking on broken glass, it could be a sign of acute laminitis, also known as founder. Laminitis in horses is a painful condition that affects the hooves. It occurs when the tissues that connect the hoof wall to the coffin bone become damaged and weakened.1
In later stages, laminitis can cause the hoof to entirely separate from the bone, leading to severe pain and lameness.
Endocrinopathic laminitis can affect any horse, regardless of age, breed, or activity level. The condition is irreversible, so prevention and early intervention is key. In this article, we'll look at the causes, prevention, and treatment of laminitis, along with some tips to help you and your horse cope with this condition.
What is Laminitis?
Under the surface of a horse's hoof are many folded layers of tissue called the laminae. This tissue holds many nerves and blood vessels and forms a tight connective layer between the horse's hoof wall and the foot bone within (called the coffin bone).1
If this tissue becomes inflamed, the connection between hoof and bone weakens. Factors that can lead to inflammation include:
Infection
Stress
Physical damage
Gut imbalances caused by diet, toxins, or disease
In the early stages, this weakening causes limping and foot soreness. If the condition progresses, it can lead to full detachment of the hoof and rotation of the bone inside the hoof.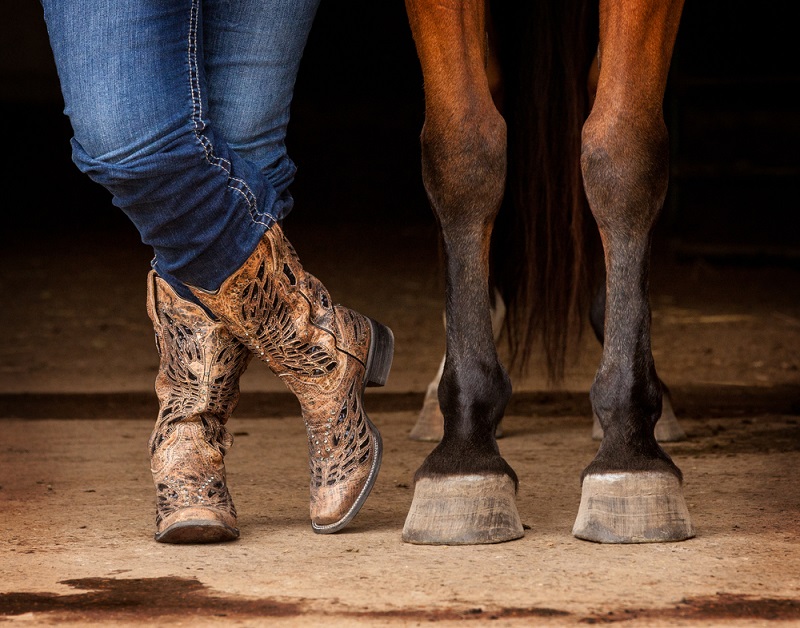 Causes of Laminitis in Horses
There are many causes of laminitis, including:1,2
Overfeeding of certain foods – A high intake of soluble carbohydrates, such as sugars and starch, can disrupt the horse's digestive system. This gut imbalance can lead to toxins in the bloodstream that interfere with blood flow to the hooves. Some common dietary culprits are too much grain or rich pasture that's high in sugar.
Infection or sepsis – Bacteria in the bloodstream are a frequent cause of laminitis. Common types of infection linked to laminitis include retained placenta after foaling, pleuropneumonia, and septic peritonitis (abdominal infection).
Overworking – Also known as road founder, hooves can be overstressed when a horse runs too long or is worked too hard, especially on a hard surface like pavement. Improper hoof trimming can also cause road founder.3
Obesity – One of the most commonly reported causes of laminitis among equine veterinarians is obesity.4 This is sometimes due to insulin resistance, which is more likely in obese horses and is linked to laminitis. However, obesity itself also raises the risk of laminitis due to the excess stress on a horse's limbs and internal organs.
Exposure to toxins – Some substances can cause laminitis by damaging the blood vessels and tissues in the laminae. For example, black walnut wood shavings used in a horse's bedding can lead to laminitis if ingested, due to a toxin contained in the fibers.
Corticosteroid use – Injectable corticosteroids used for inflammation and pain relief can cause laminitis if used in high doses or for extended periods. Some horses are especially sensitive to this risk. Always consult with your vet before using medications containing corticosteroids.1
Prevention of Laminitis
Luckily, many laminitis cases are preventable with good care. Here are some tips for avoiding this devastating condition:4
Maintain a healthy weight – Excess weight is a serious risk factor, especially in horses with insulin resistance or metabolic disorders such as equine metabolic syndrome (EMS) or Cushing's disease. Regular exercise and a balanced diet with carefully monitored grain intake can keep your horse in prime condition and reduce strain on the hooves.
Feed appropriately – Every horse owner knows that horses are experts at begging—or demanding—tasty treats. Still, avoid the temptation to feed too much grain, fruit, or other snacks that are high in sugars and soluble fiber.
Avoid sudden changes in diet – Abrupt changes in feed or pasture quality can upset the gut and cause bacterial imbalances. Limit access to spring pasturage when the grass is at its most lush.
Care for the hooves – Have your horse's hooves professionally trimmed and inspected regularly to check for early signs of trouble such as uneven wear or dishing. Between trimmings, keep hooves clean with an antimicrobial hoof spray to kill pathogens and encourage healthy hoof growth.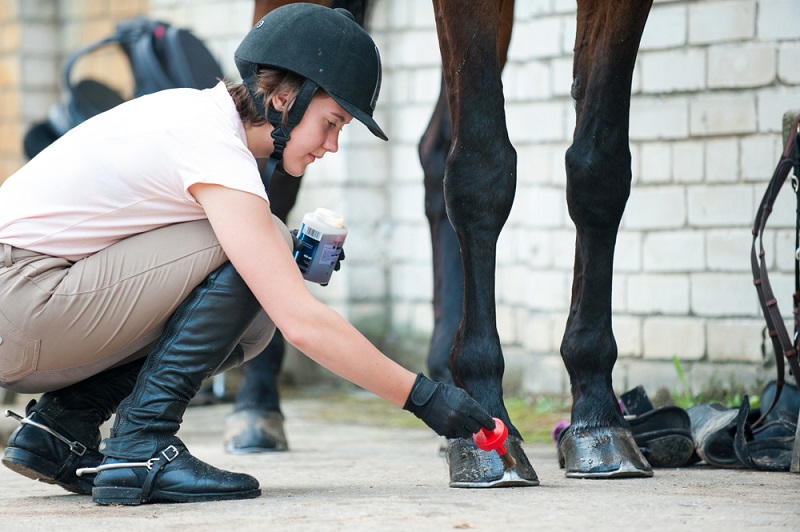 Treatment of Laminitis
Unfortunately, laminitis is a chronic body condition that requires ongoing care. However, with proper management, progression can be slowed. The earlier you spot the clinical signs of laminitis, the better your horse's chance at a full recovery.
Treatments your vet may suggest include:5
Pain relief – For moderate laminits cases, NSAIDs (non-steroidal anti-inflammatory drugs) provide relief for pain and inflammation. Your vet may suggest opiates for severe cases; however, medications that increase blood flow are more likely to be used before opiates.
Stall rest – Give your horse plenty of comfy resting areas with extra bedding. Some affected horses may benefit from a sling to provide more support and take weight off the hooves.
Cold soaks – Ice baths can help keep inflammation down. A hoof soak can help penetrate the horses hoof tissues more deeply to remove harmful microbes that can cause secondary infections.
Trust Vetericyn For a Healthy Horse from Head to Hoof
Laminitis is a painful condition that can cause irreparable damage to your horse's foot. Luckily, many contributing factors are within your control. You can help your horse stay in top condition with a healthy diet and frequent, appropriate exercise.
Proper hoof maintenance and wound can also help you spot the clinical signs of hoof disorders like endocrinopathic laminitis and other conditions like horse dermatitis and horse thrush before they progress.
Vetericyn can help keep your horse looking and feeling its best from head to hoof with our line of equine care products, including hoof soaks, wound care sprays, and skin-soothing shampoo.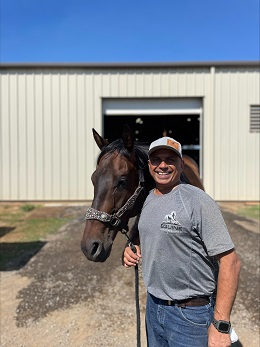 Reviewed by Solomon Benarroch, Veterinarian
Solomon Benarroch DVM has been a practicing veterinarian for over 30 years. His primary focus has been in equine soundness and performance sports medicine. Originally from Winnipeg, Canada he attended college at the Western College of Veterinarian Medicine. And completed an internship at the University of Minnesota. He is the father of three kids and when he isn't working (which is rare), he enjoys traveling, cooking, and spending time with friends and family.
Sources: