5 Most Common Goldendoodle Health Issues
Shaggy, smart, and super cute—the Goldendoodle dog breed is hearty and energetic from puppyhood all the way to its golden years. While doodle owners can usually expect a long and happy life with their favorite puppy, there are a handful of Goldendoodle health problems to watch out for. 
So, what should you look for to ensure your dog enjoys as many frisbee-catching and tail-chasing years with you as possible? To start, you can learn the most common Goldendoodle health issues.
We'll examine skin, ear, eye, joint, and digestion issues that could impact your pet. Remember, regular checkups and vet appointments are a must for any pet owner—but it's equally important to stay vigilant of symptoms, changes in mood, or odd behavior. Grab your leash and take a stroll through these possible puppy problems.
#1 Eye Issues
Is your doodle giving you a weird look? It might not be because their bowl is empty. Doodles, like many breeds, may deal with several different eye problems and diseases.
If you're noticing an awkward wink, redness, or swelling, your Goldendoodle may be experiencing any of the following eye problems:1
Eye infections – Infections can happen to the dog and human eyes alike. Crusty lids, yellowish discharge, squinting, or blinking are all clear signs of an eye infection. Caused by bacteria entering your Goldendoodle's eyes, an

antimicrobial eye gel

is your first step for remedying this issue. Flush out the irritant, and your dog may be back to 20/20 vision before you know it.

Dry eyes

– Is your mini poodle dealing with irritated or inflamed eyes? Dry eyes are a common condition for many breeds, often caused by genetic factors. Typically, this condition appears in both eyes and may require some specialized drops to help your dog feel there best again.

Allergies

– The seasons change, the flowers bloom, and all of a sudden, your pup is itchy, irritated, and not too happy. Environmental allergies can affect Goldendoodles, leaving them with red and inflamed eyes. While you can't do much about the dander and pollen in the air, you can offer an

antimicrobial eye treatment

to minimize their symptoms.
#2 Joint Problems 
A healthy Goldendoodle should be more than happy to walk, run, and play for hours on end. The only thing that might hold these pups back is a joint problem. 
Because dogs put a lot of stress on their joints, there is the possibility of degenerative issues, including:2
Arthritis

Osteoarthritis

Ligament tears
For any pet owner, preventative care is the best means of avoiding any health issue. A healthy, nutritious diet, alongside safe, natural supplements, can give your poodle an edge against degenerative issues.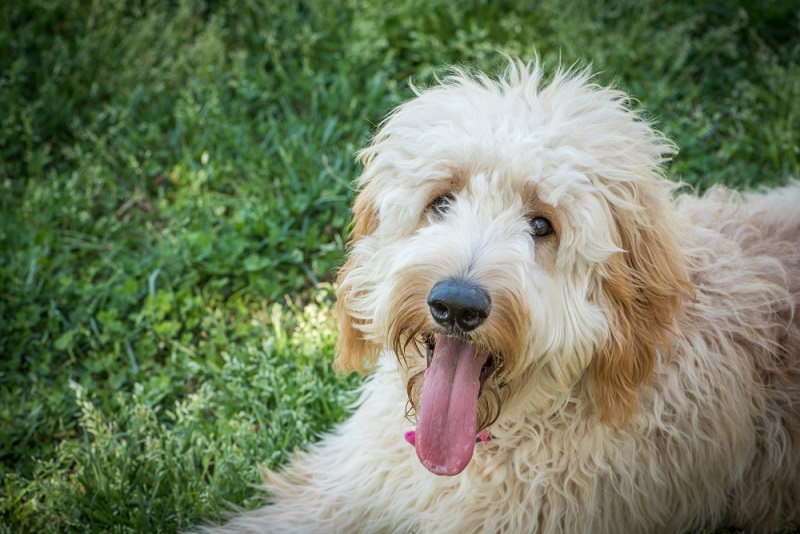 #3 Ear Issues
Your Goldendoodle's ears should be floppy and fluffy—a feature we pet owners find adorable, to be sure. But occasionally, this breed has to contend with an unfortunate ear infection. You might find that your Goldendoodle is more prone to ear infections than some other breeds due to the shape of their ear.
Most often, a Goldendoodle ear infection is caused by the following:3
Moisture

Bacteria

Foreign debris

Ear mites

Yeast
Aggressive ear itching and strange head movements are telltale signs of an ear infection. If you're worried, take a peek under that floppy ear and see what's going on. Fortunately, you can pick up a high-quality ear rinse to help clean out the ear and relieve irritation.
#4 Skin Problems
Are you staring down an itchy doodle? Every mini Goldendoodle enjoys a nice scratch once and a while, but if your pup can't stop scratching, it may have a skin problem.
Common skin problems for Goldendoodles include:3
Allergic dermatitis

– Allergies can do more than make your dog itchy and sneezy. They can also lead to severe skin irritation and scratching. Allergic reactions can also cause reddish rashes under your doodle's fur.

Mange

– There are several types of mange, a skin condition caused by parasites known as "mites." These mites feed on blood and skin, causing itching, sores, and sometimes hair loss. For any mixed breed, Treatment will vary depending on the type and severity of the mange, but most well-kept dogs shouldn't have to worry about this issue.

Fleas

– Don't blame yourself if your doodle acquires some fleas. These tiny insects can come from almost anywhere, and they cling on for dear life. If you're concerned about fleas, look out for hotspots, scabs, and scratching.

Topical treatments

and baths are the best way to get rid of these pesky critters.
#5 Stomach and Digestion Issues
Even the healthiest standard Goldendoodle might deal with some tummy trouble. Often, stomach and digestion issues are short-term problems caused by eating something they shouldn't have. It's just a matter of time before it passes.
On the other hand, you might need to look out for more serious symptoms, including:4
Frequent vomiting

Bloody stool

Weight loss

Sustained loss of appetite
These symptoms are often linked to serious illnesses like bloat, infections, or worms. Get your dog checked out if symptoms don't subside, and always keep an eye on any odd behavior around food. For most Goldendoodles, dinner time is the best part of the day.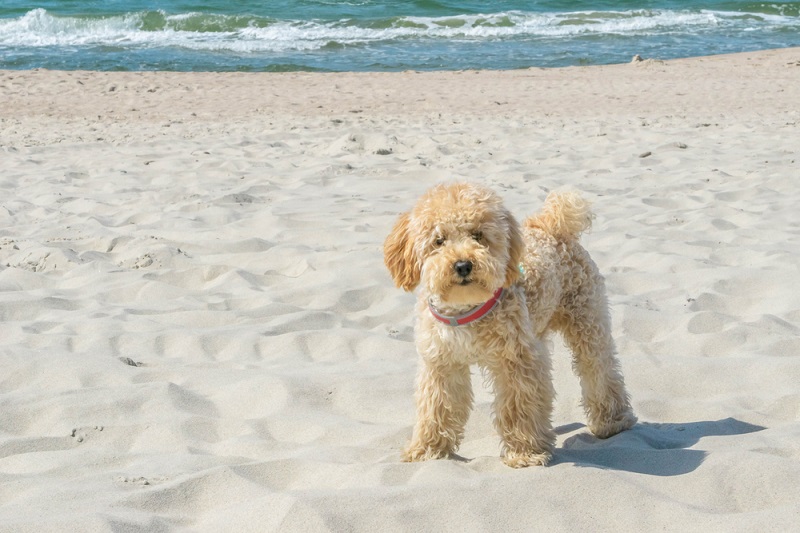 Keep Your Goldendoodle Healthy with Vetericyn
It doesn't take much to keep a Goldendoodle happy and healthy—but knowing a little about the health risks for this breed puts you ahead of the pack. Now, you just need a place to go to for all your pet's health needs. 
That's where Vetericyn comes in.
For more than a decade, we've worked to offer safe and effective products for pet owners all across the country. From our ALL-IN Dog Supplements to our Foam Care Pet Shampoo, you're certain to find everything you need at Vetericyn. Visit our website or explore our offerings at Amazon, Chewy, and Petco.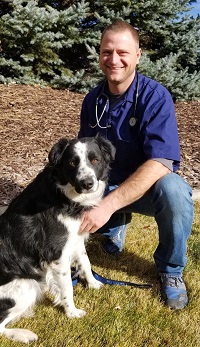 Reviewed by Dan Richardson, Veterinarian
Dan Richardson has been a practicing veterinarian for over 10 years. He specializes in surgery and orthopedics. Dan is originally from rural western Nevada and attended the University of Idaho for undergraduate study and Oregon State University for Veterinary School. The Richardson Family enjoys camping and spending time on the water fishing, paddle boarding, or digging their feet in the sand somewhere warm.
Sources: