My Dog Has Dry Flaky Skin and Scabs, What Do I Do?
As a dog owner, you probably feel like a watchful parent, monitoring any change in your fur baby to ensure their health and wellbeing—including the health of their skin. While most pups have a shiny, lustrous coat and soft skin underneath, occasionally, you might feel something else when you reach down to pet your four-legged friend.
If recently, you've been saying, "My dog has dry, flaky skin and scabs," we're here to help with your dog's skin care.
In this simple and approachable dog health guide, we'll explore infections, parasites, and genetics to discover the cause and treatments for flakes and scabs. Read on to get your pup's skin problem back to tip-top shape.
Genetic Skin Problems
Before examining external factors for your dog's skin problems, it may be helpful to consider their genetics for a potential answer.
Dry skin, scabs, and other irritating symptoms may be the result of the following genetic or breed-related skin disorders:
Canine ichthyosiform dermatoses

—

Scaling, flaking, and skin thickening, canine ichthyosiform dermatoses is a disorder most commonly found in Doberman Pinschers, Rottweilers, Irish Setters, Collies, Spaniels, Retrievers, American Bulldogs, and terriers.

Dermoid cysts – Frequently seen in Rhodesian Ridgebacks, this birth-defect causes oil, dander, and hair to accumulate under the skin, causing painful cysts along the backbone.1
Different genetic skin disorders—from alopecia to pigmentation problems—typically appear within the first few years of your puppy's life. That said, these conditions have the potential to spring up at any time. If you're interested in investigating further, genetic testing may provide an idea of what you can expect from your pup's DNA.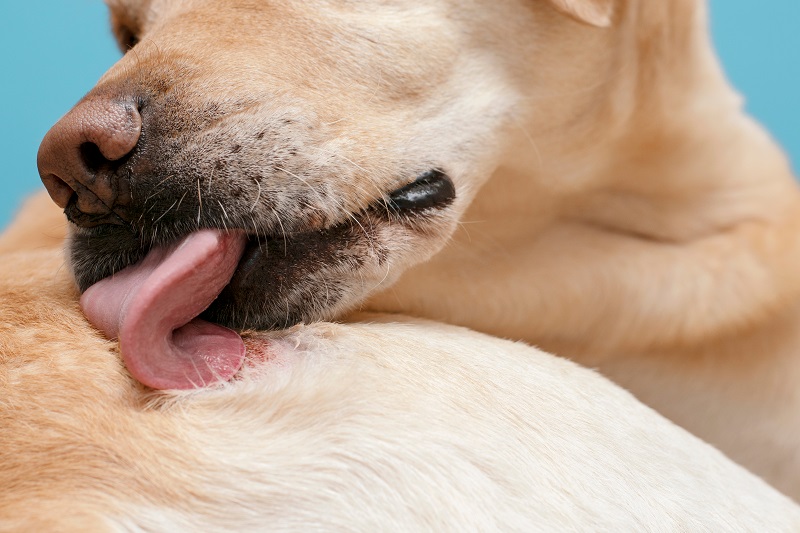 Allergic Reactions
Environmental allergens aren't just a human problem. Dust or pollen in the air, and even the food in their bowl, could be affecting your dog's skin.
Most notably, an allergy-related condition called atopic dermatitis can cause dry, flaky, and itchy skin.2 Other skin allergy symptoms caused by atopic dermatitis include:
Scratching, chewing, and biting various areas of the skin

Hair loss

Red skin

Crusty or oily skin patches

Enflamed ears
It's often a guessing game for dog owners to figure out what's causing an allergic reaction, or if your dog is experiencing dog seasonal allergies. If you're interested in finding a conclusive answer, visit your vet for allergy testing. Skin allergy tests can reveal the real cause of your dog's allergies.
Parasites
Dry, flaky skin may be a sign of uninvited guests living on your dog's skin and in their fur. We're talking about creeping, crawling, blood-sucking parasites.
 There are three likely suspects when dealing with dog parasites, including:
Fleas

– Not only are fleas an unpleasant nuisance, but their bites can cause an allergic reaction resulting in several skin problems—including scabs and flaking. While dogs are immune to flea bites, many develop dry, itchy skin as a result from the pesky flea.

Mange

– Is the flaking and itching accompanied by hair loss and dandruff? Mange is a likely culprit. Caused by tiny, parasitic mites, mange is an all-to-common source for skin irritation, affecting dogs of all ages and breeds.

Lice – Leaping from dog to dog, lice feed off skin debris or blood (depending on the type) and cause scratching, matted coats, and extreme discomfort.3

Lice latch onto your pup's fur and continue to reproduce until fully eliminated.
Infections
Bacterial and fungal infections can cause skin-related side effects. Note that these infections are often related to larger health issues. 
Common dog skin infections include:
Yeast dermatitis

Staph infection

Folliculitis

Seborrhea

Ringworm4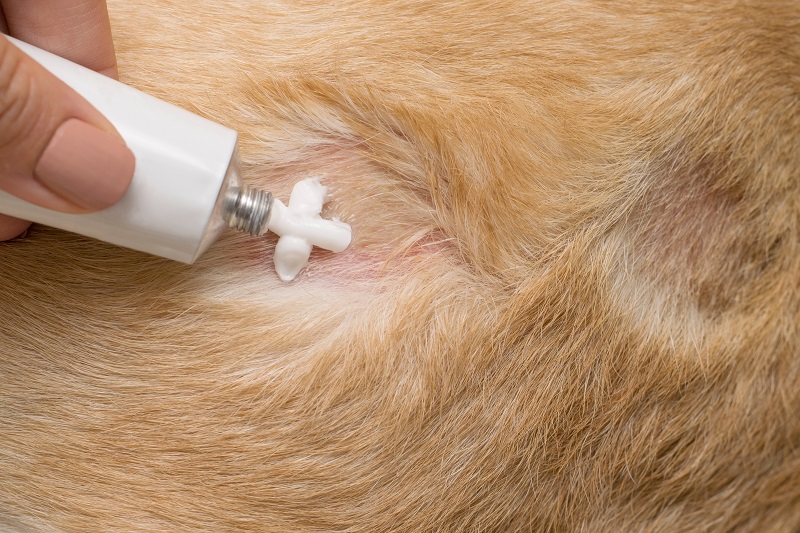 Treating Your Dog's Skin Problems
It's always best to consult with your vet if you're worried about your dog's health. Only a veterinary professional can accurately diagnose disorders that may cause dry, flaky skin and recommend the proper treatment.
That said, your vet is likely to recommend any of the following treatments for your puppy's skin problems, including:
Veterinary shampoo

– For eliminating parasites, soothing symptoms, and treating various infections, veterinary medicated shampoo is one of the most recommended treatments. A few baths and your pup may be as good as new. Consider opting for a sprayable medicated shampoo that offers fast results for dogs with skin issues, like

Vetericyn's Medicated FoamCare Shampoo. 

Diet change

– Your vet may recommend switching food if your pup's reactions appear to be food-related. Even a simple ingredient like soy or gluten can result in irritated skin symptoms. Additionally, if your dog's diet is lacking in an essential nutrient, a complete health supplement, like

Vetericyn's ALL-IN Dog Supplement

, can help treat irritated skin issues and support their overall wellness.

Medications

– Depending on the cause and severity of your dog's dry, flaky skin, your vet may prescribe oral or even intravenous medications and antibiotics. Be sure to follow the precise dosing instructions provided by your vet.
Vetericyn: Keeping Your Dog's Skin Happy and Healthy
No one wants to watch their pup scratch, paw, and wiggle around due to an untreated skin problem. Fortunately, modern veterinary science allows for fast, incisive treatment. If you're looking for products that will help keep your pup's skin healthy, Vetericyn is only a click away.
At Vetericyn, dog health is what we do best. We're proud to offer foaming pet shampoo, spot treatments, wound care, and so much more. For more than a decade, we've combined our love of animals with vigorous scientific research to craft safe, non-toxic animal wellness products. If you're looking for relief for your dog's skin condition, look no further than Vetericyn.
Sources: