Addressing Biting in Horses: Causes, Solutions, and Wound Treatment
As a horse lover, you're willing to put up with a lot of stubborn, silly, or even downright frustrating behavior in your equine companion. But biting is one behavioral problem that has to be nipped in the bud. Biting horses can cause severe injuries to humans as well as other horses. Biting can also damage the trusting relationship you've worked hard to establish.
However, the unfortunate truth is that biting is a natural communication behavior in horses, making it difficult to train out.1
The key to dealing with a biting horse is understanding why your horse is acting out. Is it a sign of aggression, pain, fear, or something else? In this article, we'll explore some possible causes of biting horses, how to react to a bite, and how to deal with bite wounds if they do happen. We'll also cover some proactive measures you can take to discourage biting before it becomes a habit.
Why Do Horses Bite?
With their herdmates, horses generally bite to establish dominance, guard food, or warn others to stay away from a mate or foal. With their human handlers, horses bite for similar reasons. They may bite to get at food or to fight back when you want them to do something they don't want, such as loading into a trailer or being saddled.
One study found that most bites to handlers occur in one of three situations:1
During grooming
When cinching the saddle
When another horse is present
Pay attention to the situation that led up to a bite and you'll usually be able to figure out the reason behind it. Some common causes of horse bites include:1
Pain or discomfort – Many horse bites happen when the saddle girth is tightened, and it's often a sign of injury or illness. In fact, one study found that up to 92% of horses who reacted aggressively when their girth was tightened were suffering from gastric ulcers.
Boredom – Research has found that horses who spend too much time stabled without access to pasture are much more likely to bite. Providing straw bedding for your horse to chew may help reduce the biting habit.
Reaction to aggressive correction – Slapping, pushing, jerking on your horse's head, and other physical punishments from handlers often lead to escalating bad behavior on the horse's part.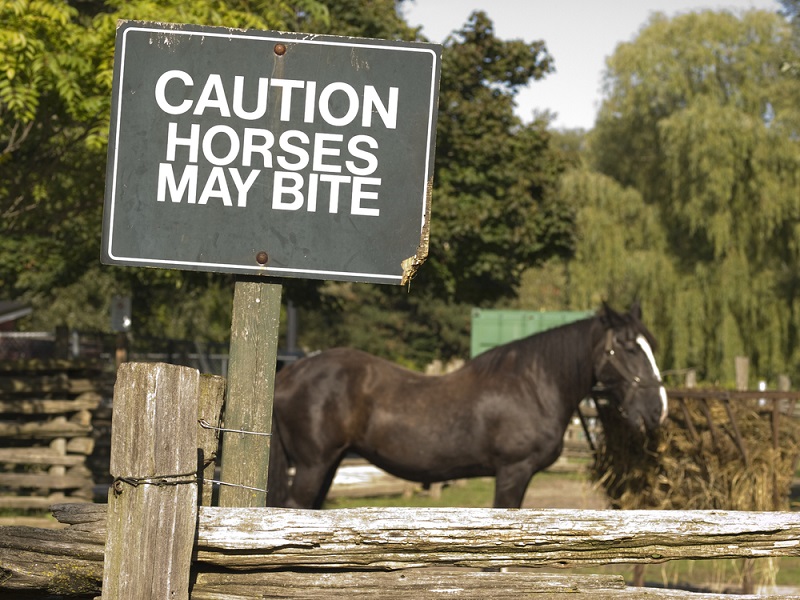 How to Handle Biting Behavior In Your Horse
Biting can become a habit very quickly if your horse learns that it gets the desired results. In fact, horses can learn a new behavior after just one repetition if it gets the horse what it wants.1
For example, let's say your horse bites as you're trying to slip a harness over its head. If you respond by flinching and letting go, your horse has learned that biting habit lets it get out of work. However, if you react aggressively by slapping, hitting, or yelling, it's likely that the horse will only escalate their own bad behavior. You won't win against a 2,000-pound aggressive animal.
The best response to horse biting is to react firmly, but briefly:
Respond immediately — Give a quick, loud verbal correction like "no," "stop," or "quit."
Move the horse – Your horse should be well-trained to back up when you indicate. If not, start practicing this daily. Don't let your horse get the idea that you move away when it says so through a bite.
Stay firm – Do your best not to let the horse get their desired result by biting. For example, don't hand over horse treats after a bite. After correcting the bite, confidently and calmly resume what you were doing.
Wound Treatment for Biting Injuries
They may be grass-eaters, but a horse bite is nothing to laugh at. Their powerful jaws pack tremendous crushing force. Horse bites can cause infections, nerve damage, or even require surgery.2,3
Horse bites can be dangerous for other horses as well. If your horse has been bitten by another horse:4
Clean and flush the wound. Use an antimicrobial wound care spray to clean and disinfect the wound in one step.
Apply a protective gel and bandage. Cover the wound with a sterile gauze pad, and secure it with vet wrap to protect it from dirt and flies.
Monitor for signs of infection. Bite wounds often cause punctures that create pockets of bacteria, so the infection risk is high. Check the wound daily for swelling, heat, discharge, or odor. If you see any signs of infection like horse dermatitis, contact your vet immediately.
Tips to Prevent Biting
Of course, the best way to avoid having to treat a bite is to prevent the bite in the first place. There are several ways you can care for your horse in a way that leads them away from the urge to bite. For example:
Provide plenty of exercise and stimulation – Restless horses are more likely to bite, so be sure your horse has time every day to graze and move freely. Toys, puzzles, and horse training sessions are also helpful for keeping your horse mentally stimulated and cooperative.
Watch the body language – Horses always warn before they bite. Unfortunately, human handlers don't always pick up on these warnings. Watch for ears turned backward or pinned to the skull, tensed jaw, lips pulled back, whites of the eyes showing, or bared teeth. Any or all of these signal a horse that may bite.
Maintain good skin and hoof health – Horses often bite due to pain and discomfort. You can avoid many irritants such as itchy skin or sore hooves by cleaning your adult horse regularly with a skin-safe equine shampoo and antimicrobial hoof spray.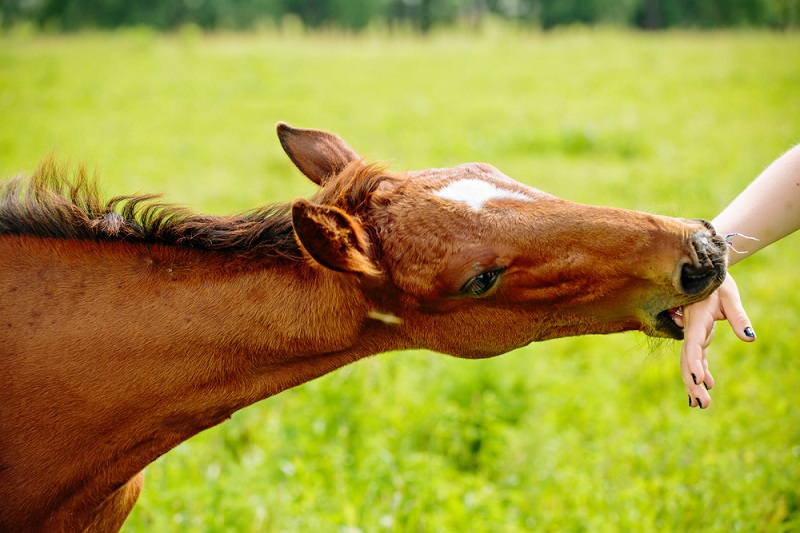 Treat Wounds and Bite Injuries Promptly With Vetericyn
Biting in horses can be overcome with patience, understanding, and proper horse care. Keep your horse active and healthy with regular rides and horse training sessions, and you'll go a long way toward eliminating unwantedbehavior like horse biting habit before they begin.
For more help keeping horse health problems at bay, make sure you have Vetericyn close by. Whether you need to treat a bite wound, prevent infection, or keep hooves strong and healthy, Vetericyn products are safe, effective, and simple to use.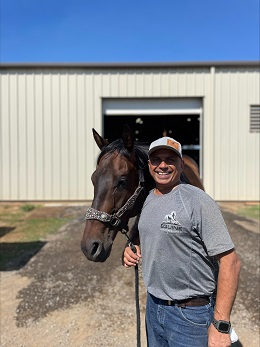 Reviewed by Solomon Benarroch, Veterinarian
Solomon Benarroch DVM has been a practicing veterinarian for over 30 years. His primary focus has been in equine soundness and performance sports medicine. Originally from Winnipeg, Canada he attended college at the Western College of Veterinarian Medicine. And completed an internship at the University of Minnesota. He is the father of three kids and when he isn't working (which is rare), he enjoys traveling, cooking, and spending time with friends and family.

Sources: