Dog Breed Guide: The German Shepherd
When America first fell in love with canine movie star Rin Tin Tin in 1922, the German Shepherd breed had been standardized and registered for barely three decades. Today, this brave, intelligent, and loyal dog is the American Kennel Club's (AKC) second-most popular breed. It's also one of the most reliable service dogs in the military and police. Even President Joe Biden and his wife Jill Biden are fans of this dog breed and adopted their own German Shepherd dogs. Major, the president's youngest German Shepherd dog, can often be seen playing on the grounds of the White house. What's not to love about the German Shepherd? Let's get to know more about this majestic working dog breed.
A Brief History of the German Shepherd Breed
Credit for the standardization of the German Shepherd breed goes to Max Emil Friedrich von Stephanitz. In 1899, while he was an officer in the German cavalry, the Dresden native began breeding a variety of herding dogs in his quest to develop a breed with the character, endurance, and mental stability to serve humans.
In 1907, the German Shepherd was introduced to America at an open class dog show in Newcastle, Pennsylvania. By 1913, the mighty canine won its first championship. That same year, the German Shepherd Dog Club of America was founded by Anne Tracy and Benjamin Throop. Two years later, the club held its first specialty show in Greenwich, Connecticut.
Interestingly, the breed has been known by more than one name
When the United States entered World War I in 1917, anything associated with Germany became unpopular. For this reason, the AKC altered the name of the breed to Shepherd Dog and the German Shepherd Dog Club dropped the "German" from its title. In Europe, the name of the breed was changed to Alsatian. In 1930, the AKC restored the breed's original designation.
About the German Shepherd Breed
Lauded as "dogkind's finest all-purpose worker" by the AKC, the breed is defined by its gracefully curved outline and easy natural gait. As smart or smarter than virtually any other breed, this steadfast guardian can learn numerous commands and carry them out without flinching.
Appearance
This breed grows up pretty quickly. 18 months is usually when German Shepherds stop growing, but their physique is huge even then. The typical adult German Shepherd may be as tall as 26 inches at the shoulder and weigh between 60 and 100 pounds. Males are taller and heavier than females. In September 2014, the largest German Shepherd on record was a 131-pound male named Duke whose shoulder height was an impressive 32 inches.
With medium-length fur, the coarse, double-coat of the German Shepherd comes in several standard colors and color combinations:
Black

Black & Cream

Black & Red

Black & Silver

Black & Tan

Blue

Gray

Liver

Sable

White

Bi-Color
Most coat colors are acceptable in AKC conformation rings, but liver is less desirable and white is disqualifying. It is also worth noting that competition dogs must have black noses to qualify for AKC competition. Aside from taking care of the coat, you should also take care of the skin. Common German Shepherd skin issues include yeast dermatitis, moist dermatitis, and allergy dermatitis. So make sure to use the right haircare products for your pet. Vetericyn has some hair care products ideal for dog fur.
Temperament
Fiercely loyal, the German Shepherd will give its all to defend his or her owner. Nonetheless, this big but slightly aloof dog makes a gentle family pet that can be expected to attain the age of 10 to 13 years. But with the right training, they are also capable of more serious jobs, such as military dog, guard dog, etc.
German Shepherd dogs rank highly for intelligence, trainability, kid-friendliness, and affection level. They rank equally as high for barking, shedding, and need for exercise. As puppies, German Shepherds are better equipped to accept new animals than they are when introduced as adults.
German Shepherds On the Job
Agile, intelligent, and brave, the German Shepherd breed is well known for its propensity for hard work. Although training and temperament matter more than breed, German Shepherds are often selected to perform specific tasks, such as:
Airscenting

Cadaver dogs

Disaster response

Mobility assistance

Psychiatric service

Search and rescue (SAR)

Tracking

Trailing

Water recovery
Care and Feeding of the German Shepherd
Exercise Requirements
German Shepherds are highly energetic animals that require more than a daily walk to remain healthy and happy. Mental stimulation is necessary, as well. Bored, under-stimulated dogs are prone to develop behavioral problems, including digging, chewing, and excessive barking.
There are a number of activities and games you can share with your Shepherd:
Daily walk for a minimum of 45 minutes to an hour

High-intensity agility training

Hiking

Obedience training

Tug-o-war
Can German Shepherds Swim?
Unlike Labradors and Golden Retrievers, German Shepherds don't have webbed feet, and they're not naturally inclined to jump in the water and swim. Nonetheless, you may train your Shepherd to enjoy aquatic sports, especially if you start in still water when your dog is young.
What to Feed Your German Shepherd
Adult Shepherds should never eat puppy chow, as it can lead to obesity even in highly-active dogs. Cheap kibble is not appropriate, either. German Shepherds are athletic animals who do best when provided high quality foods, adequate exercise, and plenty of fresh drinking water.
Adult dogs who weigh 30 to 50 pounds need around 2 ¼ to 3 ½ cups of food per day, divided into two or three meals. Dogs weighing 50 t0 80 pounds require 3 ½ to 4 ½ cups, and 80 to 100-pound Shepherds should eat around 4 ½ to 5 cups of food per day.
German Shepherd experts recommend watching the dog, not their food bowl, to determine if they are eating the right amount of food. If you notice your pet becoming overweight, limit high-calorie treats and table scraps. Should your canine companion show signs of underweight, increase their meals by ¼ cup at a time until their weight normalizes.
Health Issues Common to the German Shepherd Breed
When it comes to German Shepherds health issues, the less inbreeding, the better. As long they remain healthy, the average German Shepherd lifespan can reach 10 to 12 years. The number one health issue suffered by the breed is hip dysplasia. Other health issues include:
Bladder stones

Bloat

Degenerative disc disease

Dental problems

Elbow dysplasia

Epilepsy

Nose infections

Pancreatitis

Urinary tract infections
Whether intended to be a service dog or companion animal, be sure to obtain your German Shepherd from a reputable breeder. Provided adequate exercise, high-quality food, regular vet visits, and plenty of love, the German Shepherd Dog can be the best friend you ever had.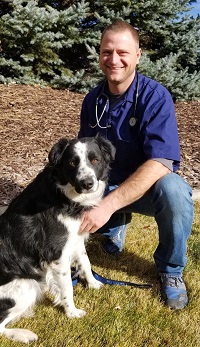 Reviewed by Dan Richardson, Veterinarian
Dan Richardson has been a practicing veterinarian for over 10 years. He specializes in surgery and orthopedics. Dan is originally from rural western Nevada and attended the University of Idaho for undergraduate study and Oregon State University for Veterinary School. The Richardson Family enjoys camping and spending time on the water fishing, paddle boarding, or digging their feet in the sand somewhere warm.
Sources: