All about Horse Withers: Anatomy, Care, and Common Issues
Think horse withers are just a convenient point to measure height and keep your saddle from slipping forward? Think again. The withers are much more than just a bony ridge on your horse's back. In fact, they're a key part of how your horse moves.
The health and conformation of your horse's withers affect their stride, speed, jumping ability, the way saddles fit, and their overall comfort.
The withers are also prone to a number of problems, such as saddle sores, infections, and mobility problems. These can not only cause pain and discomfort for your horse, but also affect their performance. Proper tack fitting, nutrition, and hygiene all play a role in maintaining the health of the withers. Keep reading as we cover everything you need to know to keep your horse's withers in top condition.
The Anatomy of Horse Withers
You've no doubt heard of the withers, but where exactly are they? What do they do? If you view your horse from the side, you'll notice a bony ridge that marks the tallest point of the back. This area is known as the withers. (Yes, the word is always plural, but it's just one area of the horse.)
The withers are formed by a section of the spinal vertebrae that have tall bony points that stick up higher than the rest of the horse's spine.1 This structure serves several vital purposes:
It's the connection point for all the major muscles and ligaments of the neck, shoulder, and back, giving them support and flexibility
It allows the shoulders to have an extended range of motion, providing more speed and jumping ability
It acts like the fulcrum of a seesaw, helping the horse to balance its weight properly as the neck and back rise and fall
Variations in Horse Withers
The shape and size of horse withers can vary widely between horses. Your horse's body may have:2,3
High withers – These are withers that rise sharply and have a noticeable dip behind them. They are sometimes called "shark fin" or "camel" withers. A high wither tends to go with a narrow chest, which means lower lung capacity. On the plus side, high withers allow for a longer stride which means more speed and jumping ability. Saddles can be hard to fit on high withers—look for a high pommel and good clearance.
Low withers – Also called "mutton withers," these are withers that are lower and less prominent than the ideal. Horses with low withers have less range of motion in their legs and shoulders. This makes their stride shorter and reduces their jumping ability. Low withers also allow the saddle to creep forward, which can cause discomfort and mobility problems.
Normal withers – Ideally, withers should be well-defined and of medium height. The horse's back muscles should be developed enough that the dip behind the withers isn't too sharp or steep. Withers of medium height provide good shoulder movement without causing problems with saddle fit.
It's essential to take the shape of your horse's withers into account when purchasing tack. A saddle has to fit the unique contours of a horse's withers the way a quality shoe should fit your foot without slipping and sliding. And just like a loose-fitting shoe, choosing the wrong saddle can cause your horse pain, irritation, and even long-term skeletal and muscular problems.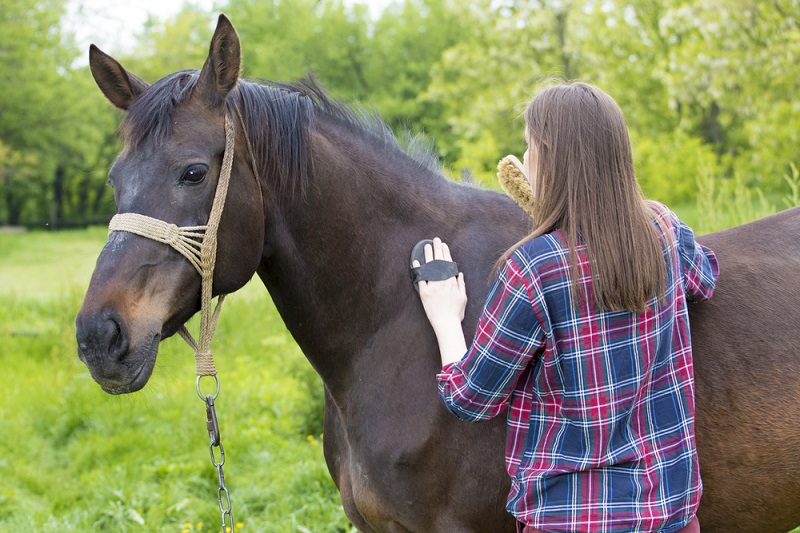 Preventing Problems of the Withers
Worried that your horse's withers are too high or low? Never fear—you can take steps to prevent problems caused by a less-than-ideal withers conformation.
Although the skeletal structure of the withers is mostly set by your horse's genetics, the overall health of your horse's withers can be affected by several factors you can control:
Exercise and feeding – What your horse eats and how much exercise it gets makes a big difference to the development of the back and shoulder muscles around the withers (the "topline"). If your horse shows a prominent dip behind the withers, this can indicate a lack of muscle tone in the back. A high-quality feed with plenty of protein and exercise that works the hindquarters can help correct this over time.4
Good saddle fit – An improperly fitted saddle can interfere with the movement of the shoulders and put too much force on the withers. Over time, this can cause pressure sores, bruising, muscle strain, and even spinal problems like kissing the horse's spine.
Good riding posture – How you hold yourself when you're astride your horse is critical to helping your horse's body maintain good form and healthy joint function. It's also important to mount your horse without pulling yourself up by the saddle horn, which puts excess pressure on the withers.
Care Tips for Your Horse's Withers
One of the most common problems seen in horse withers are saddle sores. Saddle sores are typically caused by poor saddle fit, dirty tack, or improper riding posture.5 Luckily, this problem is easily prevented with a bit of attention and diligence.
Follow these tips to avoid saddle sores and keep your horse's withers in tip-top shape:
Groom before riding – Dirt particles that aren't visible to the naked eye can be enough to cause irritation to areas that come in contact with tack as you ride. Always brush your horse's back, withers, and girth area before saddling.
Keep tack clean – Every time you ride, inspect your tack for burrs, debris, and other irritants before putting it on. Replace worn saddle pads and blankets when they become rough.
Cleanse after riding – Check for any signs of rubbing or soreness around the withers, girth, and under the saddle. Next, groom to remove horse sweat and dirt. Dried-on sweat can cause skin irritation, so cleanse with warm water and a gentle equine shampoo before drying.
Check for warning signs – As you groom, check for white hairs (these indicate pressure points), bare patches, broken hairs, redness, heat, and swelling. These are all warning signs that your tack is causing irritation. Take action to correct the problem by checking the fit of your saddle pads, blankets, saddle, and other tack. Check your riding posture—are you off-balance, sliding forward or back, or slouching?
Treat sores and irritation promptly – At the first sign of irritation, clean the affected area with a medicated shampoo. Next, apply a protective ointment that's formulated to create a barrier over the skin, such as Vetericyn Plus Antimicrobial Hydrogel. This will help prevent irritated skin from becoming infected by common pathogens like equine ringworm and staph.
Signs and Symptoms of Problems in the Withers
Unless it's an obvious saddle sore, the early signs of trouble brewing in the withers can be hard to spot. Much like a human's sore neck or back, you won't necessarily see an injury on the outside.
Instead, pay attention to subtle changes like:
Heat or swelling around the withers
Discomfort when touched around the withers
Flinching, shying, or pinning the ears when being saddled
Sinking or humping the horse's back as you mount
Changes in movement, such as stiffness or shortening the stride
These signs indicate distress of some sort, not only in the withers. However, they are a clue that it's time to reassess your tack fit and check for underlying problems like a sore hoof, gastric pain, joint pain, or something else.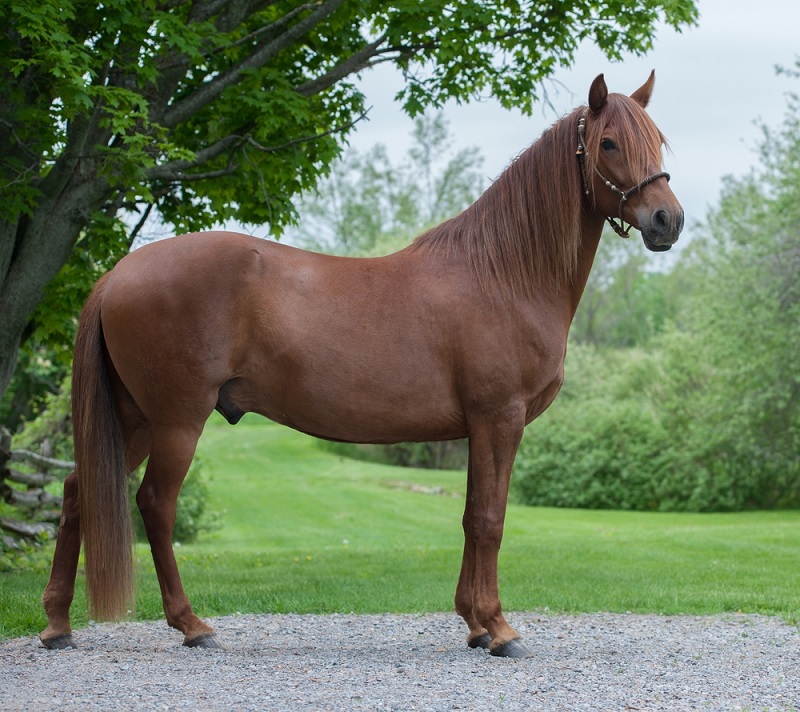 Common Issues with Horse Withers
Aside from saddle sores, some of the most common problems seen in the withers are:6
Fistulous withers – This condition is similar to bursitis in humans. It happens when the bursae (sacs that cushion the bones of the withers) become inflamed and painful. Eventually, this can become an infected wound called a fistula. The initial inflammation can be caused by untreated saddle sores in horses, or by a bacterial infection. Veterinary care is required, so contact your vet if you see swelling or drainage near the neck or withers.7
Fracture of the withers – Because the bones of the withers are so long, they are especially vulnerable to breakage. A fracture of the withers can cause swelling, bruising, pain, and stiffness in the neck or shoulders. It typically happens as a result of a fall. Treatment involves anti-inflammatory medications, icing the injury, 6 to 8 weeks of stall rest, and 4 to 6 months of rest from riding.8
Swelling or inflammation of the withers – Many conditions can result in inflammation of the withers, including arthritis, allergies or horse dermatitis, injury, or poorly-fitted tack. If you notice that your horse's withers seem unusually hot or swollen, apply a horse liniment that includes natural, horse-safe anti-inflammatories like menthol and peppermint. Gently rub the liniment into the muscles to increase blood flow and stimulate healing.
Maintain Whole-Body Health with Help from Vetericyn
When it comes to the withers, this complex body structure is much more than it might appear at first glance. The next time you mount up, remember that the bony bump in front of your saddle is a crucial part of how your horse moves and feels. Help your horse's withers stay in peak condition by practicing correct riding posture and checking saddle fit regularly.
And don't forget to keep your horse's skin clean and irritation-free, especially in areas that work as hard as the withers.
For help maintaining strong, resilient skin, use Vetericyn every time you groom. Our soothing liniment and protective skincare sprays and gels can help keep the withers free from inflammation, sores, and infection. Best of all, Vetericyn works without antibiotics, so you can use it as often as needed without overuse.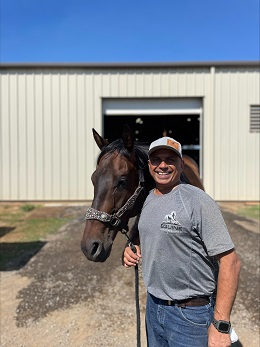 Reviewed by Solomon Benarroch, Veterinarian
Solomon Benarroch DVM has been a practicing veterinarian for over 30 years. His primary focus has been in equine soundness and performance sports medicine. Originally from Winnipeg, Canada he attended college at the Western College of Veterinarian Medicine. And completed an internship at the University of Minnesota. He is the father of three kids and when he isn't working (which is rare), he enjoys traveling, cooking, and spending time with friends and family.

Sources: